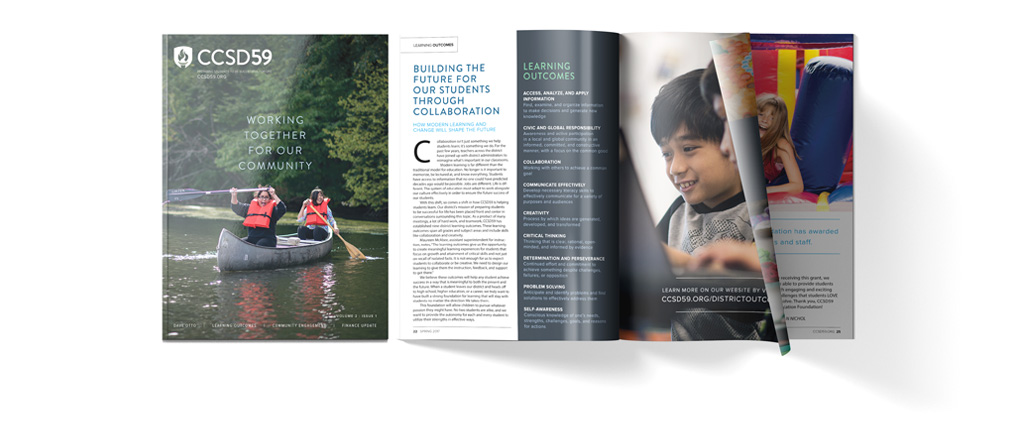 At CCSD59, our mission is to prepare students to be successful for life. In order to do this effectively, we acknowledge the need for community involvement. Daily, you may have interactions with students, teachers, or staff from the district.
CCSD59 provides a diverse learning experience that is unique in the northwest suburbs. From the dual language offerings to providing technology access for all students to our novel approach to instruction, the education received by students at CCSD59 is unparalleled.
We believe knowing what is happening at our district, seeing the wonderful work happening in classrooms, and meeting some of our staff will help build a sense of pride about living in the CCSD59 community.
Pride in knowing children in the district are receiving the best education possible.
Pride in knowing children in the community are cared for.
Pride in knowing the district is being fiscally responsible.
Pride in having CCSD59 schools as part of your neighborhood.
Moving forward, it is our hope to publish two magazines each year. In the past, our district issued four community newsletters each year, and our new biannual magazine will replace the previous quarterly newsletter format while staying in a similar budgetary range for publication. We believe we will be able to offer the community an improved, more engaging communication piece through our new magazine.
We look forward to sharing the district's journey with the CCSD59 community.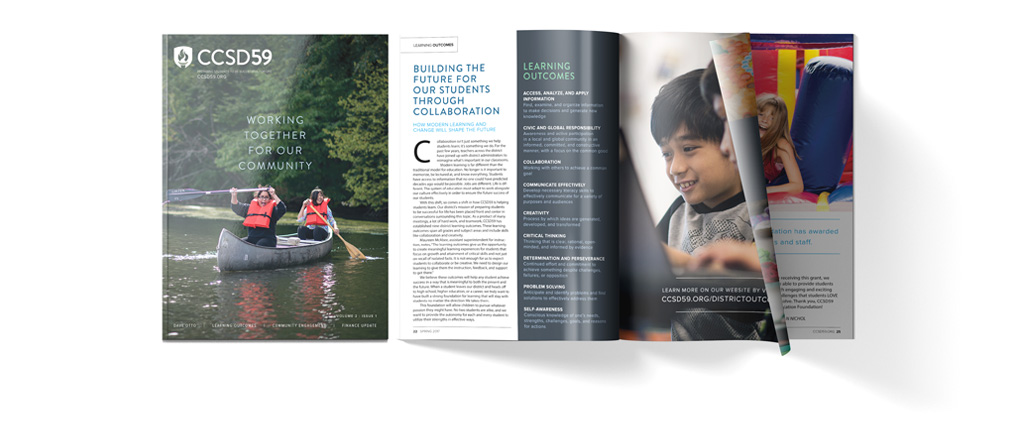 En CCSD59, nuestra misión es preparar a los estudiantes para tener éxito en la vida. Para hacer esto con eficacia, reconocemos la necesidad de la participación de la comunidad. Diariamente, usted puede tener interacciones con estudiantes, maestros o personal del distrito.
CCSD59 proporciona una experiencia de aprendizaje diversa que es única en los suburbios del noroeste. Desde la doble oferta lingüística hasta el acceso tecnológico para todos los estudiantes a nuestro nuevo enfoque de la instrucción, la educación recibida por los estudiantes en CCSD59 es incomparable.
Creemos que saber lo que está sucediendo en nuestro distrito, ver el maravilloso trabajo que está sucediendo en las aulas y reunirnos con algunos de nuestros empleados ayudará a crear un sentimiento de orgullo por vivir en la comunidad CCSD59.
El orgullo de conocer a los niños en el distrito está recibiendo la mejor educación posible.
El orgullo de conocer a los niños de la comunidad se cuida.
El orgullo de saber que el distrito está siendo fiscalmente responsable.
Orgullo en tener CCSD59 escuelas como parte de su vecindario.
Avanzando, es nuestra esperanza publicar dos revistas cada año. En el pasado, nuestro distrito emitió cuatro boletines comunitarios cada año, y nuestra nueva revista bianual reemplazará el formato del boletín trimestral anterior, manteniéndose en un rango presupuestario similar para su publicación. Creemos que podremos ofrecer a la comunidad una pieza de comunicación mejor y más atractiva a través de nuestra nueva revista.
Esperamos compartir el viaje del distrito con la comunidad CCSD59.