A Comeback Made Possible by Passion and Perseverance
For over 20 years, Holmes Junior High School has not had a wrestling team. Thanks to the passion, excitement, and teamwork of CCSD59 students, staff, and administration, that can no longer be said. Wrestling has made a welcome return to Holmes, and students are excited to be a part of the team.
Each year, Superintendent Dr. Art Fessler, Physical Education/Athletic Director Will Hogan, and the schools' athletic directors meet to plan for future seasons, reflect on current programs, and assess opportunities for growth. According to Hogan, one of the main reasons for the return of wrestling to Holmes Junior High was the passion and perseverance that was demonstrated by Justin James, a PE teacher and coach at Holmes. "This has been a goal of his for many years that, along with district and building support for start up equipment and supplies, was realized," Hogan said.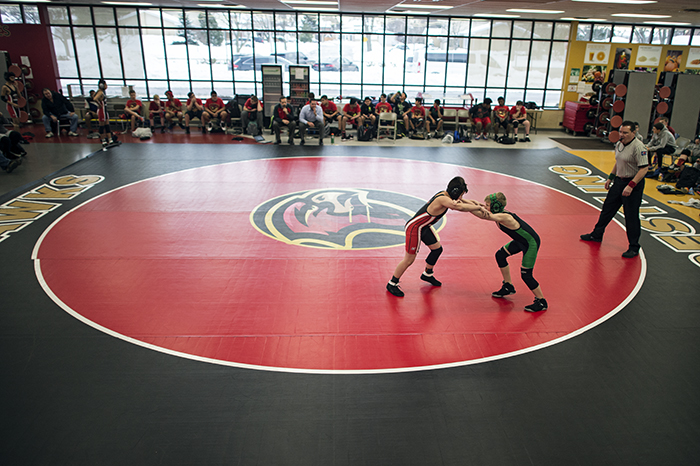 Grove PE Teacher Mike Kusibab, who is the wrestling coach for their program, agreed wholeheartedly. "Justin was a former wrestler of mine at Grove. I coached him and both of his older brothers, so Justin comes from a family of wrestlers," he said. "I can tell you this: while he was here he was a good wrestler and was easily our number one 'cheerleader.'  His enthusiasm spread to everyone on the team."
James said as soon as he began teaching at Holmes seven years ago, he set a goal to start a wrestling program. In 2015, discussions began to take place about student interest in creating a team. Clinics were conducted in spring of 2016 and 2017, to further gauge and build interest and also to show potential growth. Holmes participated in their first meet in December of 2017.
The new program has been well received by students, families, and staff members alike. "Having attended a number of home and away meets, I have seen the staff and parent support. Nothing less than full houses at each one," Hogan said.
I not only focus on helping them grow as learners but how wrestling lessons can be applicable in their everyday lives. My biggest qualification is for students to give me their best effort and be a good representative of our school and wrestling program when putting on that Hawks uniform.

– Coach James
James has been thrilled at the outpouring of additional support. "We have received amazing support for our team from our staff, students, parents, and members of the wrestling community," he said. "Our staff at Holmes has encouraged them to wrestle, provided assistance with their academics, and donated money to ensure that our students had wrestling shoes to compete and practice in." He also said a lot of students come to support their classmates at the meets. James added that members of the wrestling community donated wrestling shoes, knee pads, and headgear and also have showed a tremendous amount of support.
Grove's wrestling program is co-ed with four girls on the team, and some of the girls at Holmes have already shown an interest in their school's team as well. Students at Friendship Junior High who are interested in the sport were invited and attended past Holmes clinics, too, and James believes "there is a vast amount of untapped potential at Friendship."
Although the Holmes Hawks wrestling team is in the fledgling stage, the students have already learned much more than just the wrestling moves they are practicing every day.
"What is most impressive to me is the student growth and confidence that can be witnessed from match to match," said Hogan.
James said some of the best lessons aren't even about the athletics, important as those are. "I not only focus on helping them grow as learners but how wrestling lessons can be applicable in their everyday lives," he said. "My biggest qualification is for students to give me their best effort and be a good representative of our school and wrestling program when putting on that Hawks uniform."