"Byrdstock" Fall Festival Celebrates Admiral Byrd's 50th Anniversary
On November 17, Admiral Byrd Elementary school added some 60's flair to their annual Fall Fest. Calling the event "Byrdstock" in honor of the infamous 60's festival, Woodstock, the event was part fall festival and part "50th birthday" party. It is one of several 50th birthday celebrations that will happen during the 17-18 school year.
Since Byrd was established in 1967, the Parent Teacher Organization (PTO) came up with the idea of tying in Woodstock and the 60's theme. The event was largely organized by the PTO, including music, raffle, concessions, and assistance of volunteers who helped the event run seamlessly.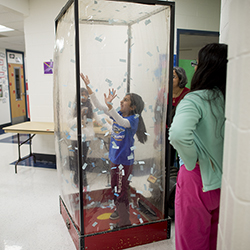 Byrdstock transformed the atmosphere of the school back to its opening year, complete with fashion and music: tie-dye shirts and a live 60's garage rock band, The Wayouts. Since they specialize in 60's covers, the Wayouts fit in perfectly with the "Byrdstock" theme. The members of the band live in the community and the lead singer/bass player's child also attends Byrd school, so The Wayouts kindly donated their two-hour live performance free of charge.
Food items were available for purchase, including McDonald's burgers, popcorn, candy, and taffy apples. Byrd students and families also donated baked goods to sell to help the PTO raise money for the school.
Local restaurants, businesses, and community members really helped make the event special by generously donating goods and services, both for the event itself and for raffle prizes. A long list of donations included: gift cards for free meals at local restaurants, tickets to sporting events, museums, and entertainment, services and items at specialty stores, and even a ride to school in Elk Grove Fire Department's fire truck. A long line of prize bags for raffle tickets sat on top of the school library cabinets as parents and students dropped their tickets in. Mike Griffin, president of Byrd's PTO, said he was amazed by the community's support. "Elk Grove and surrounding businesses have been very generous in donating items for our event," he said. "The total value of items we raffled off is well over $2,000."
In addition to food and music, the event also included other donated services including a professional photo booth where students could dress up in costumes to take pictures, a face painter, and a raffle ticket wind machine, which was by far a favorite. Throughout the evening, students could be spotted laughing in it as they furiously grabbed at tickets flying all around them.
Students ran games for their peers throughout the hallways, many of which incorporated different skills sets, such as counting, memory matching, and many others. Tables with fun fall-themed craft projects were also set up throughout the event.
The event raised almost $2,000 which will be put back into Byrd school by the PTO to fund additional events, projects, or items needed by the students. It's a winning situation all around – the students, families, and staff spent some time together as a community while the PTO raised funds for the school.
"Because of the overwhelming support from our parent and teen volunteers, staff, and community sponsors, Byrdstock was a 'Rockin' success," said Griffin. "Here's to another 50 great years!"