CCSD59 Students Show Support of Paralympics
Did you know February was Random Acts of Kindness (RAK) Month? It was celebrated all month by students, staff, and community members in CCSD59 in many different ways. CCSD59 Board Member Sharon Roberts took the RAK celebration to an Olympic level – literally.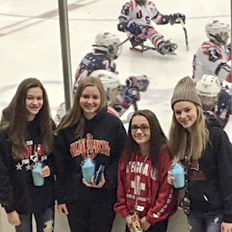 During a CCSD59 board meeting in February, a community member spoke to the board about the opportunity to show support of the US Paralympic Sled Hockey Team. The team was practicing in Rolling Meadows at the West Meadows Ice Arena until leaving to compete in the Paralympics in South Korea in March. In addition to their regular practices there, a pair of benefit games were played between the US National Sled Hockey Team and the US Development Sled Hockey Team on the evenings of February 23 and 24. Roberts, as her act of kindness to both the district and the paralympic teams, donated six tickets per school to all fifteen district schools and the administrative building.
Roberts sent a letter to the principals of all schools, requesting that they help with the distribution of the tickets by giving them to a student in the school who has been observed doing a random act of kindness and/or the student's family member(s).
"I was so proud of our district when I learned from the principals why they chose the students they did to receive the tickets," Roberts said. "I wrote a letter to the Paralympic Sled Hockey Team where I shared this information with them."
All CCSD59 families were encouraged to arrive a little early so the group could sit together, wear CCSD59 clothing, and bring American flags. They held CCSD59 signs encouraging the teams. Approximately 100 people showed up to represent the CCSD59 community at the benefit games.
According to those who attended, the game was extremely high-speed and very exciting to watch, as the athletes flew fast in their sleds and collisions occurred as in NHL hockey.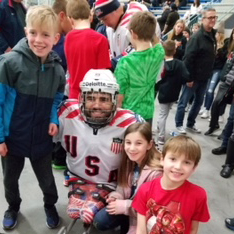 Roberts says that in addition to supporting those who have served our country and rewarding random acts of kindness by our students, attending the paralympics games also provided the students with the opportunity to learn firsthand about a number of the district's outcomes, including Civic and Global Responsibility, Self-Awareness, and Determination and Perseverance.
"We all face difficult times in our lives," said Roberts. "Watching these men play hockey demonstrates to our students (and adults!) that we should not give up just because what life throws us is difficult to handle." She also felt that it may help students to gain empathy for others who also have their own struggles to overcome.
Julianne and John K., two fifth-grade students at Robert Frost, were given tickets to represent their school for "demonstrating kindness to their classmates and all members of the school community on a daily basis," according to their school's principal.
The students said in a summary essay about attending the event, "I will always remember this awesome experience, meeting about four olympians and have them sign my belongings. This was the best experience ever!"