Grove and Holmes Students "Play 60" at Halftime at Soldier Field
Thanks to CCSD59's partnership with the Chicago Bears, junior high students from Holmes and Grove had a rather surreal experience during a recent game of flag football.
They played it on Soldier Field during halftime.
While walking onto the field, looking up with a huge smile on her face, ​Grove student Esmeralda Aguilera​ told teacher Margaret Ketterick, "This happens once in a lifetime!"
Twenty-five lucky students from Grove and Holmes, PE teachers/coaches Margaret Ketterick, Tracy Hogan and Justin James, and event organizer and Ridge assistant principal Will Hogan all were at Soldier Field during the game on Sunday, September 24.
Celebrating the tenth year of the program, this new opportunity was offered by the Chicago Bears and partner Fuel Up to Play (FUTP) 60/Midwest Dairy Council. FUTP60 is an in-school nutrition and physical activity program to raise children's self-awareness on how to lead healthier lives.
The invitation to play at the stadium was extended to CCSD59 because of its long-standing relationship and performance within the FUTP60 program, and both Grove and Holmes met the required criteria to qualify to play on the field at halftime. As the FUTP60 excitement and self-awareness on the importance of healthy habits have grown, additional CCSD59 schools are getting involved in the program and may qualify for future events.
The Chicago Bears and Midwest Dairy Council partnered to cover the cost of the transportation bus for the students to get to and from Soldier Field.
The Grove and Holmes students and staff were able to watch the game on screens in the locker room, which was shared with the national anthem singer Wilbur Pauley and the Navy Seals Leap Frog Team. According to Hogan, watching the last six minutes of the first half of the game from the field, prior to the students' scrimmage, was just an amazing experience. "We were just a few yards from Adam Shaheen's touchdown catch, Marcus Cooper's 73-yard blocked field goal return, and Connor Barth's field goal," he said. "We would like to believe we were influential in the outcome of the game," he jokes.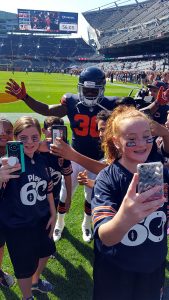 Students were able to enjoy many other unique experiences at Soldier Field as well. They saw the tunnels under the stadium and many of the various activities that go into game day. During player warm-ups, students had on-field access and spent over an hour of pregame time watching offensive, defensive, and special teams prepare for the game. The children interacted and took selfies and group pictures with numerous players, gymnast and six-time Olympic medalist Aly Raisman, and NFL media, game referees and officials. Chicago Bears coaches also played catch with the students, who were then allowed on the field during the National Anthem and witnessed the Navy Seals Leap Frog Team parachute into the stadium.
Hogan was incredibly proud of all the students who attended, and the determination and perseverance they continuously show in their dedication to staying healthy. "They did an outstanding job of representing CCSD59," he said.
"They were respectful and encouraging to one another," James agreed. "I could hear them talking about how nervous they were, so I just reminded them to take in this whole experience because most people will never get to do something like this. I just encouraged them to soak it all in."
---
For more game-day photos and excitement, check out these Tweets from Sunday's game!
Lifetime experience for Ss from @HolmesJHS @GroveJuniorHigh @nflflag scrimmage on field @ halftime today! @ccsd59 @BearsOutreach @nflplay60 pic.twitter.com/1cYrDxbUG6

— CCSD59PE & Athletics (@D59PE) September 24, 2017
Those players are @ccsd59 @HolmesJHS @GroveJuniorHigh students celebrating their @nflplay60 participation & successes! pic.twitter.com/ZpTX9tatl5

— M Spentzos-Inghram (@spentzosinghram) September 24, 2017
Thanks @BearsOutreach for the great @nflflag opportunity for some @FUTP60 schools! pic.twitter.com/8b5dJ1fGBv

— Lorna Riggs (@RiggsLorna) September 24, 2017
Great to see our friends @GroveJuniorHigh out on the field at halftime of the @ChicagoBears game as part of the Play 60 program! pic.twitter.com/100NVOCik8

— EGHS Athletics (@GrenAthletics) September 24, 2017
Who wants to make a difference with @FUTP60 ? Our kids do! It's not 2 late for all @ccsd59 @D59PE schools. @MidwestDairy. Contact @WHogan14 pic.twitter.com/JGDRlAc644

— CCSD59PE & Athletics (@D59PE) September 25, 2017