Kenyan Student Gets A World-Class Welcome at Devonshire
"She's here, she's here! Which door is she coming in? I'm so nervous. What does she look like?" As the Devonshire second grade students crowded around their classroom entry door, peering out into the foyer, their anticipation was quite apparent through their exclamations of excitement.
On Tuesday, October 11, these Devonshire students had a special visitor. Nine year old Maurine came all the way from Kenya, Africa to the United States and visited CCSD59 to see what American schools are like.
Laura Zarate-Miller, a dual language teacher at Devonshire, runs races with the organization Team World Vision (TWV). The organization's goal is to provide clean water globally to communities in need with the help of sponsors who run at various events.
Michael Chitwood, the National Director for Chicago TWV, contacted teammate Zarate-Miller about his sponsor child, Maurine, visiting Devonshire. Maurine wanted the opportunity to visit a school in America, and the staff at Devonshire was thrilled to play host. Maurine was accompanied by her 25-year-old brother, two staff members of TWV, and Chitwood.
When Chitwood first met Maurine, she was three years old. At that time, her community didn't have access to clean water and had a 50% mortality rate for children. She is now a healthy 9-year-old, and clean water is available in her community.
Maurine was embraced not only by Zarate-Miller's classroom, but by the whole school. She was welcomed into Zarate-Miller's classroom by an open desk with her name card on it, and toured the school including the gym, the library, and other grade level classrooms. Everywhere she went, happy shouts of "Jambo!" were heard in unison as the students said hello in Swahili, Maurine's native language.
She participated in outside recess on a beautiful day and especially enjoyed the swings. She was quickly taking turns with the Devonshire students both receiving and giving a push on the swing, laughing as she was giving other children a big boost. Swings are not very common in Maurine's neighborhood, and they are usually reserved for younger children, according to a TWV representative.
Both the students and Maurine kept the translator quite busy as they excitedly exchanged ideas, shared information, and ran around the playground.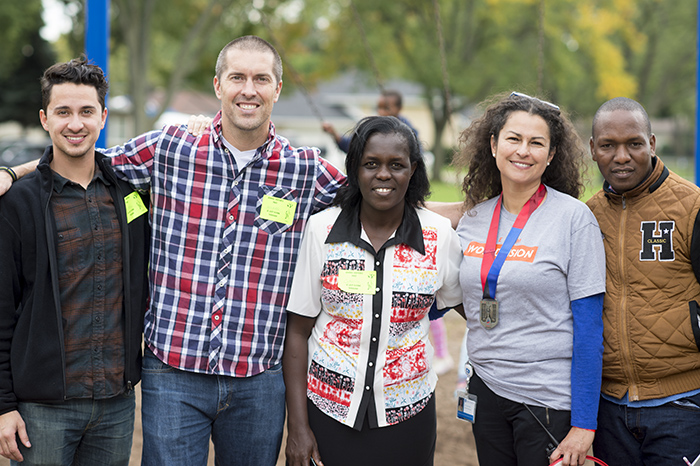 She shared a lunchtime meal with the students and participated in a class read aloud. The entire class good-naturedly groaned when it was announced Maurine's visit had come to an end.
Zarate-Miller was absolutely thrilled with the outcome of the visit, which she said provided a great opportunity to practice global responsibility and learn about culture in other countries. In particular, she was very proud of her classroom and the whole school. "We used all we have learned from SEL to convey to this little girl that was more than welcome to our school! In short, we all showed her Devonshire love, and I couldn't be any prouder of all of our students."