Peoria Educators Travel Across State to Witness CCSD59 Learning Outcomes
Different aspects of the curriculum design at CCSD59 have attracted a number of representatives from other districts over the years. Educators have traveled to our schools to observe Innovative Learning procedures, the Dual Language program, and our Learning Outcomes.
On Tuesday, January 15, staff members from Peoria Public Schools joined that list as they took another step toward developing their own competency-based learning program. In searching for a district that had successfully identified and implemented its own Learning Outcomes, the curriculum at CCSD59 motivated these visitors to travel over 150 miles to see it in action.
"We had heard that (CCSD59) had already engaged in this process, so we wanted to learn what the district went through to build the competency-based learning system," said Susan Grzanich, Innovation and Grants Officer at Peoria Public Schools.
The group began their day at the Professional Development and Administration Center. They spent time with Dr. Art Fessler, Superintendent of Schools, and Maureen McAbee, Assistant Superintendent of Instruction, who provided an introduction and examples of the curriculum before offering a breakdown of what they would witness at their site visit.
From there, the visitors traveled to Grove Junior High, where they met with Principal John Harrington and rotated around classrooms focused on math, science, social science, language arts, and Project Lead the Way. They were able to engage with Grove teachers and personally monitor their interactions with students.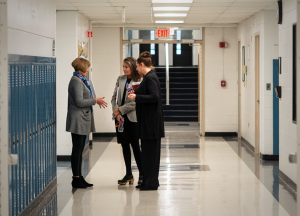 McAbee saw first-hand how this opportunity piqued their interest and provided insight into the process of applying the district's outcomes and progressions.
"That naturally led to questions and conversations about the role that our outcomes and applied outcomes play in creating learning experiences and developing assessments and rubrics," said McAbee. "Their questions for us centered on how to best operationalize the outcomes and successes, challenges, and advice we would share from our experience. They were also very curious about how our coaches are supporting this work."
The visitors took part in several debriefs with administrators and coaches throughout the day as they recapped what they had gleaned from each classroom. Grzanich reiterated the hospitality that Grove staff and students displayed, while Harrington said it was great to share the process with other educators that are going through a similar experience.
"Not only was it valuable to be able to communicate the successes and challenges of this type of work, but it was also an opportunity to celebrate how far we've come in our own journey," he said. "Our teachers and coaches did a tremendous job relaying many practical ideas and suggestions to our guests as they move forward."
The group considered it a rewarding experience and left feeling it had gained a strong understanding of the necessary foundation to form outcomes for its own district.
"I believe what we saw gave us a very clear picture of the structures that are needed to build a good competency-based program," said Grzanich. "I can say it met our expectations."