Equity Task Force: Meeting 1
Grupo de Trabajo sobre Equidad: Reunión 1
AUGUST 22, 2022
Our district's Equity Journey Task Force held its first meeting on Monday, August 25, 2022. You can find a detailed report of the meeting, including all resources, reference materials, and member list, please click here.
We also invite you to view the video below which provides an overview of the task force process from the group's first meeting.
a
The purpose of the task force is to provide input and feedback on potential options and solutions to help the district meet the goal of ensuring all students have equitable access to resources and opportunities to equip them to be successful for life.
The task force will hold three additional meetings on the dates listed below, and a follow-up report will be shared with the CCSD59 community after each meeting.
Thursday, September 8

Thursday, September 22

Monday, October 3
---
meeting documents
a
Meeting Report: English  l  Spanish
Cropper GIS Presentation: English  l  Spanish
Cropper GIS Handout: English  l  Spanish
---
Task Force Members
a
Admiral Byrd Elementary
Family – Valeria Rodriguez
Staff – Amy DeLuca
Brentwood Elementary
Family – Daniel Okafor
Staff – Jaclyn Pearson
Principal – Dr. Kim Barrett
Clearmont Elementary
Family – Anna Rogowski
Staff – Paula Ruddy
Principal – Monika Farfan
Devonshire Elementary
Family – Carolyn Cheeseman
Staff – Alissa Jelke
Forest View Elementary
Family – Beth Combs
Staff – Dawn Suarez
John Jay Elementary
Family – Alison Lopez Upton
Staff – Melissa Tejeda
Juliette Low Elementary
Family – Delma Alvarez
Staff – Angelica Johnson
Ridge Family Center for Learning
Family – Deborah Behnke
Staff – Katie Rowley
Robert Frost Elementary
Family – Jennifer Kupietz
Staff – Sean Hawkinson
Rupley Elementary
Family – Christina Maloney
Staff – Becca Nierman
Salt Creek Elementary
Family – Angelica Johnson
Staff – Becky Burright
Friendship Junior High
Family – Iwona Strugala
Grove Junior High
Family – Jacklyn Rathel
Staff – Alma Ruiz
Holmes Junior High
Family – Amy Matalas
Staff – Jennifer Santini
Early Learning Center
Family – Diana Munoz
Staff – Michelle Gonzalez
Multiple Buildings
Staff – Christina Hoblin-Lamorena
Board of Education
Courtney Lang – Vice President
Patti Petrielli – Secretary
Facilitators
Dr. Terri Bresnahan
Superintendent
Matthew Cropper
Cropper GIS Consulting
Additional Support
CCSD59 Superintendent's Leadership Team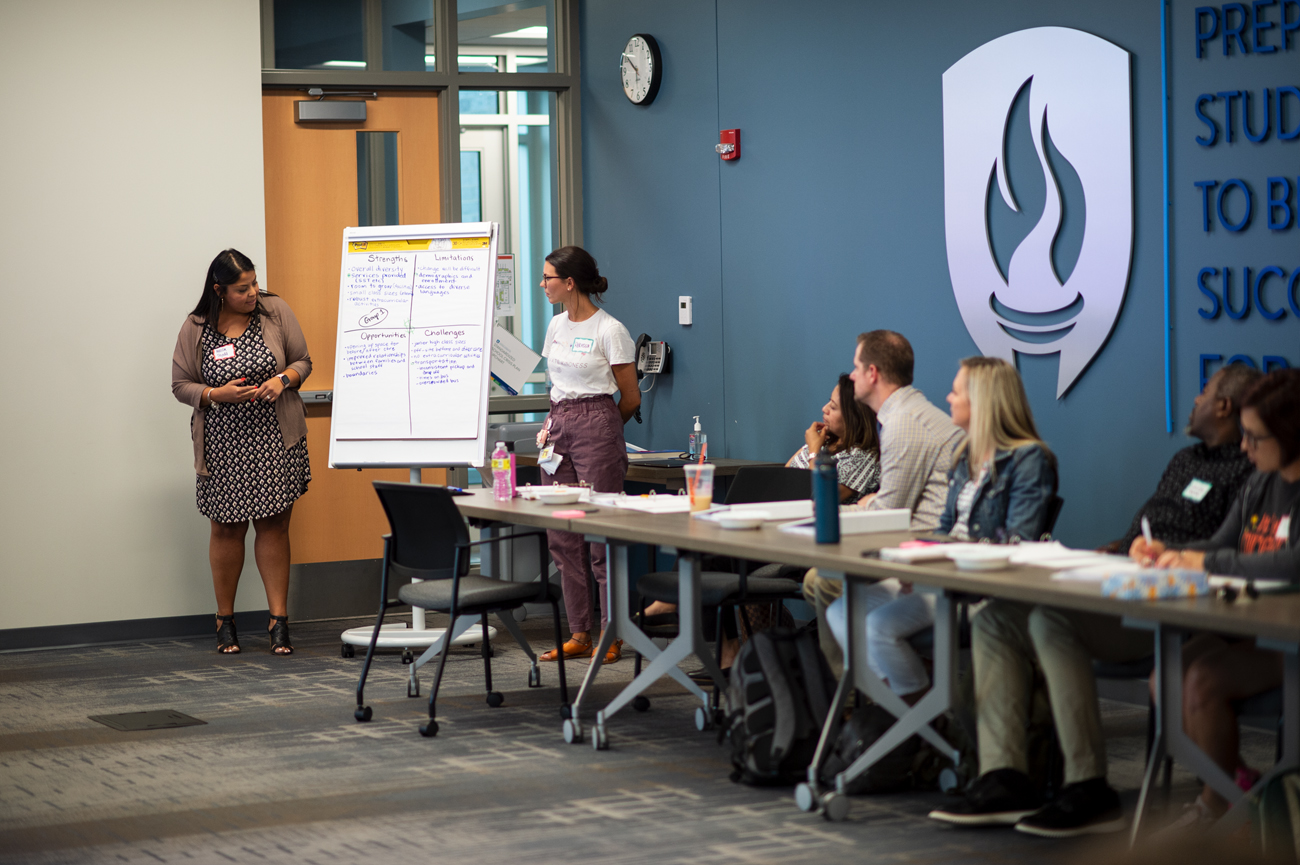 22 de agosto de 2022
El Grupo de Trabajo del Viaje de Equidad de nuestro distrito celebró su primera reunión el lunes 25 de agosto de 2022. Puede encontrar un informe detallado de la reunión, incluidos todos los recursos, materiales de referencia y lista de miembros, por favor haga clic aquí.
También lo invitamos a ver el video a continuación que proporciona una visión general del proceso del grupo de trabajo desde la primera reunión del grupo.
a
a
El propósito del grupo de trabajo es proporcionar aportes y comentarios sobre posibles opciones y soluciones para ayudar al distrito a cumplir con el objetivo de garantizar que todos los estudiantes tengan acceso equitativo a recursos y oportunidades para equiparlos para tener éxito de por vida.
El grupo de trabajo celebrará tres reuniones adicionales en las fechas que se enumeran a continuación, y se compartirá un informe de seguimiento con la comunidad CCSD59 después de cada reunión.
Jueves, 8 de septiembre
Jueves, 22 de septiembre
Lunes, 3 de octubre
---
DOCUMENTOS DE LA REUNIÓN
Informe de la reunión: inglés | español
Presentación Cropper GIS: inglés l español
Folleto Cropper GIS: inglés l español
---
Miembros del Grupo de Trabajo
Admiral Byrd Elementary
Familia – Valeria Rodriguez
Personal – Amy DeLuca
Brentwood Elementary
Familia – Daniel Okafor
Personal – Jaclyn Pearson
Directora – Dr. Kim Barrett
Clearmont Elementary
Familia – Anna Rogowski
Personal – Paula Ruddy
Directora – Monika Farfan
Devonshire Elementary
Familia – Carolyn Cheeseman
Personal – Alissa Jelke
Forest View Elementary
Familia – Beth Combs
Personal – Dawn Suarez
John Jay Elementary
Familia – Alison Lopez Upton
Personal – Melissa Tejeda
Juliette Low Elementary
Familia – Delma Alvarez
Personal – Angelica Johnson
Ridge Family Center for Learning
Familia – Deborah Behnke
Personal – Katie Rowley
Robert Frost Elementary
Familia – Jennifer Kupietz
Personal – Sean Hawkinson
Rupley Elementary
Familia – Christina Maloney
Personal – Becca Nierman
Salt Creek Elementary
Familia – Angelica Johnson
Personal – Becky Burright
Friendship Junior High
Familia – Iwona Strugala
Grove Junior High
Familia – Jacklyn Rathel
Personal – Alma Ruiz
Holmes Junior High
Familia – Amy Matalas
Personal – Jennifer Santini
Early Learning Center
Familia – Diana Munoz
Personal – Michelle Gonzalez
Varios edificios
Personal – Christina Hoblin-Lamorena
Junta de Educación
Courtney Lang – Vicepresidenta
Patti Petrielli – Secretaria
Facilitadores
Dra. Terri Bresnahan
Superintendente
Matthew Cropper
Cropper GIS Consulting