CCSD59 Alum Brandon Fox Shares Life's Lessons with Grove Students
"I remember Grove Jr High being a place of excitement & growth. All grade schools from the neighborhood consolidated, and from that I met some of my best friends still to this day. While attending Grove Jr. High, I joined the band and learned to play the snare drum. I also wrote my first song in 8th grade that I still remember to this day! There was a talent show at the end of the year that my friends and I participated in. Putting myself out there in front of the entire school is where I found my love in performing music."
–  Performance Artist and Grove Alum Brandon Fox
Brandon Fox, former Grove Junior High School student and an up-and-coming musical artist and motivational speaker, came to visit his former school on Friday, September 29. His visit was a coordination between Grove's SEL Interventionist Social Worker Michelle Acuña Amaro, the administration, and the Universal PBIS Team. Amaro said the type of local community ties Fox has made him a particularly relevant speaker to Grove's students.
"Brandon grew up in the neighborhood and can speak to the same struggles that many of our students endure," said Amaro. "We felt our students would really be able to relate to him, and hearing how he overcame those struggles would make an extra strong connection because he walked these streets and halls – it makes it more 'real' for them."
Fox, born and raised in Elk Grove Village, said he feels he has a strong connection to his roots and wants to share his sense of civic responsibility with the kids. Fox recently visited Elk Grove High School, where he rehearsed with current choir students and performed with them during a pep rally.
The Elk Grove community has molded me into the person I am today; therefore, giving back in any way possible is something I will continue to do.

Brandon Fox
"I think it is extremely important to remember where you came from," said Fox. "The Elk Grove community has molded me into the person I am today; therefore, giving back in any way possible is something I will continue to do. Speaking to schools across the country is one thing, but to be able to come back to the same school these students walk the halls in connects much deeper."
In additional to the commonality of being a former Grove student himself, Fox connected with the students by honestly sharing his own life experiences, both good and bad. He spoke to the kids about the importance of finding your passions – in his junior high days, football and music – and using them as an outlet during difficult times.
He openly spoke about overcoming hardships and tragedies he has had personally, and how he learned to avoid using negative coping mechanisms in place of positive ones. He also stressed the importance of sharing thoughts and feelings with confidants, and shared his social media and email contact information with all the students. He told them, "If you need anything, if you need someone you can talk to, you CAN contact me – I WILL get back to you. I promise." After watching him interact with the students and staff, you know he means it, too.
During his youth, Brandon enjoyed performing in talent shows and writing original music, and he spoke to how his personal experiences at Grove helped foster his musical talent. Fox is an experienced musician who toured across the US and performed at venues like Summer Fest and Lollapalooza with his former band, Makeshift Prodigy. He wisely used his talent to help bond with students so they will really hear his important message about overcoming hard times and being perseverant in goals. He showed students firsthand how creativity can be used as an effective way of communicating and impacting others. He encouraged the students to recognize their own talents and see the potential of their fellow classmates, too.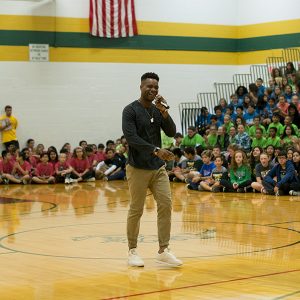 In a particularly touching moment, Fox told the students to turn to the person next to them and say, "I believe in your goals. I believe in your dreams." Watching the reactions of the students, some of whom became quite emotional when hearing these simple words, showed that Fox truly does understand how powerful they are.
Fox performed three original songs for the students, which was when the students really seemed to connect best with their alum. His final performance, off his upcoming album, "Glory", had the students on their feet singing the refrain, "Nobody's gonna bring me down" and high-fiving Fox as he went by.
Watching how well Fox was received by students certainly lends credence to Amaro's thoughts that he could reach the students on a meaningful level. In a survey sent out after Fox's presentation, students were asked what they heard Fox say or learned from the presentation. Over and over, the students responded the same things: to never give up on their dreams; to avoid drugs and alcohol as a means of coping during difficult times; to pursue their passions and believe in their own talents and skills; and to share their struggles with family and friends. One student wrote, "his life story, it reminded me of what's going on right now in my own life." Another responded, "Everyone goes through hard times, but something beautiful can come out of it."
Amaro was not at all surprised about the connection between Fox and Grove's current students. "We can teach them all about being resilient despite their struggles and tell them all about how important education is," she said, "but to be able to see and hear it for themselves, from someone who has come through Grove and has lived the same experiences, makes an impact on a whole different level."
Check out these tweets from the event:
Some shots from yesterday ❤️❤️@GrovePTO pic.twitter.com/3LKFZyglGd

— Brandon Fox (@MrBrandonFox) September 30, 2017
@MrBrandonFox sings and presents to @GroveJuniorHigh @ccsd59 about #mentalhealth and #wellness and NEVER giving up! @kimshaffer99 pic.twitter.com/amZsVk6Fcm

— Amanda Kuna Pavela (@AmandaKuna) September 29, 2017
#Grovejuniorhigh. #mrbrandonfox #keepingitreal. Thank you @MrBrandonFox for inspiring so many students! They had a BLAST! pic.twitter.com/MfZOvnHkNT

— Michelle Acuna (@meeshacuna) September 30, 2017
Starting our morning out with the songs and motivational words of @MrBrandonFox!! @GroveJuniorHigh @ccsd59 #grovejuniornation pic.twitter.com/ovlvHvCLma

— Becca Bromley (@bbromley978) September 29, 2017