CCSD59 Community Unifies To Help Hurricane Victims
Over the last couple months, it has been nearly impossible to turn on a TV, pick up the newspaper, or go online without hearing about those impacted by natural disasters in Texas, Florida, and Puerto Rico. Many of us have heard or read about the devastation or seen the heartbreaking photos of its aftermath, which cost many people their lives, their health, their homes, or their livelihood.
With so many of our US counterparts in these and other surrounding states in dire need of help, the desire to act and assist has been heard loudly from our students at all grade levels.
One of CCSD59's district outcomes, Civic and Global Responsibility, has elements that can not only be learned by helping after the tragedy of the hurricane, but deeply ingrained on a profound level of humanity and empathy. These elements include:
Making personal connections to current events locally and globally;
Demonstrating compassion, empathy, and respect; and
Making meaningful contributions to worthy causes
Like many caring people around the globe, CCSD59 students and their families from across the district have raised the same question in unison: How can we help?
Students, families, staff members, and the local community from every school in CCSD59 have united to help show just how far compassion, kindness, and generosity can go in the face of a crisis. We would like to highlight some of the ways our district is lending a hand to those in need.
We are extremely proud of these efforts and the people making them happen, and there is certainly strength in numbers. We invite you to partner with our students and families, staff members, and community to help those impacted by the hurricanes, both in our district's relief initiatives or in any other ways you can, as well.
Our hearts and thoughts continue to be with the many, many families that have been impacted by the natural disasters that have changed life for so many people across the country.
To donate to impacted families via the American Red Cross, click here.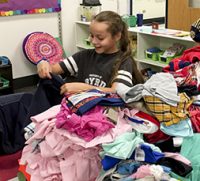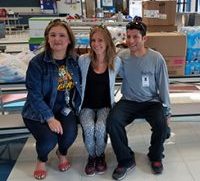 ---
Admiral Byrd Elementary – Students and staff collected clothing and toiletries for students affected by Hurricane Harvey. Clothing was suggested by the Chief School Support Officer of the Houston School District, since most families affected by the flooding have had to discard all their clothing due to water damage and mold. The students at Byrd helped sort, unpack, and fold the clothes, and stuff the many boxes which were sent to Texas. The Elk Grove Village UPS store, located on Arlington Heights Rd, shipped all twelve large boxes at no cost.
---
Brentwood Elementary – The Brentwood PTO will use funds from their upcoming annual fall fundraiser, the Fun Run, to either submit a check to a relief organization or purchase books and other supplies impacted schools may need to resupply their schools.
---
Clearmont Elementary – The Clearmont PTO had an event at Buffalo Wild Wings on 9/11. Raffles were held for Blackhawks tickets, dinner and a movie, and a Buffalo Wild Wings gift package. The raffle funds and a portion of the dinner sales raised $750 for relief efforts.
---
Devonshire Elementary – Students and staff collected money until the end of September for relief efforts. 5th grade Dual Language students decorated jars to distribute to all the classrooms to help with collection efforts, and wrote a letter to parents in English and Spanish explaining why they were collecting money. Students were responsible for collecting the donations and keeping track of the amounts collected every week. A grand total of $1,070 will be given to the American Red Cross to help with relief efforts.
---
Early Learning Center – Staff teams participated in a 'penny war' with all donated money given to help relief efforts. In a penny war, groups each have a bucket for collecting coins or dollar bills. The value of any pennies collected by a group count positively toward that group's point total, while the value of other coins or dollar bills are subtracted, encouraging more valuable denominations to be put into a competitor's bucket. The penny war raised $316, and the winning team chose which specific charity the donation went to.
---
Forest View Elementary – Students and staff adopted a school in Texas, Robinson Elementary, that requires a total rebuild. In the words of the Robinson Elementary principal, via email: "Out of the 284 schools in HISD, there were 2 that sustained such damage they will require a total rebuild….Robinson Elementary is 1 of these 2 schools. In addition, the apartments 10 feet from my campus were destroyed, and many of our families experienced total losses and extreme traumas…. Right now I am organizing the relocation of 676 students and 54 staff members, who will have so, so many needs, from crisis counseling to basic classroom supplies." The Forest View community contributed over $1,000 which was used to purchase gift cards to help impacted schools with these efforts. The gift cards and cards of encouragement, hand-made by the students, were sent to the principal at Robinson Elementary at the end of September.
---
Friendship Junior High – A teacher worked with her students to collect many needed items for families and pets, which already were sent to Texas. In addition, on September 20, students and staff could pay one dollar to be able to wear a hat during "hats for hurricane victims" day to raise awareness for all those affected by the recent hurricanes. $130 was raised, which will be split between the American Red Cross and the Houston Humane Society. Finally, two homerooms are organizing a bake sale which will take place during October conferences, with all proceeds going to the American Red Cross.
---
Robert Frost Elementary – First and third grade buddies will be collecting money during conferences in early October to purchase new books for a school in Texas. During their buddy time together, the students will be creating posters to promote the event, and will plan which books they should purchase with the funds collected. They hope to raise enough funds to purchase one new book per grade level for all students, and have a book talk via Facetime/Skype once the books arrive.
---
Grove Junior High School – On September 28, the students participated in a "Run for Relief" during physical education classes. Students asked sponsors for donations to encourage them to surpass their personal bests during the run. Local businesses also donated resources for the event. Staff attended to cheer on the students, and were also able to run with the students during the event. The event raised $4,000, and all proceeds will be donated to the American Red Cross to help fund the relief efforts.
---
Holmes Junior High – Students from the eighth grade Advanced Language Arts class started a cookie sale at home basketball games with all proceeds going to the American Red Cross. The whole school is also planning to host a movie night or open gym for students, with all proceeds going to the American Red Cross for relief efforts. The date will be announced once it is available.
---
John Jay Elementary – Along with one of their teachers, the entire fourth grade team will be collecting children's books to assist the many schools that are asking for books and school supplies for students impacted by the hurricane. Collection dates and logistics are in the planning stages.
---
Juliette Low Elementary – A family friend of one of Low's bilingual assistants took items that were donated by the school staff down to Houston. In just two days, many bags of donations of canned food, bottled water and juice, clothes, towels, toiletries, and much more were collected and brought down to areas in need of these items.
---
Ridge Family Center for Learning – Donations for school supplies, school uniforms, clothing, toiletries and other supplies were collected by all students and staff at Ridge and their families. The entire school worked in the morning on Friday, September 22 to prepare the items for shipping, from decorating the boxes and preparing cards to stuffing, taping, and moving the boxes. Once complete, about 37 boxes full of items will be sent to the Guess Elementary School in Beaumont, TX as part of the "Adopt a Texas School" program to help students and schools with needed supplies. #adoptaTXclassroom
---
Rupley Elementary – Rupley's PTO will be donating funds collected from their first "Food For Fundraiser" event at Lou Malnati's on Wednesday, Oct. 4th from 11:00am-11:00pm at 1050 East Higgins Road, Elk Grove Village. All proceeds will be sent to the American Red Cross.
---
Salt Creek Elementary – More than $800 in gift cards were sent to the principal at Milby High School in Houston as part of the "Adopt a Texas School" program. The gift cards will be used for school supplies, food, toiletries and many other basics as determined by the principal of the school.
---
Administration Center: Item donations were collected at the Administration Center for the Veterinary Speciality Center in Buffalo Grove to aid homeless animal rescue efforts in Texas. Many bags full of blankets, towels, dog and cat food, cat litter, and other needed items were collected and brought to the VSC for shipping to Texas.