CCSD59 Students Honor Veterans
Did you know that Veterans Day, originally called "Armistice Day," was first celebrated on November 11, 1919, in recognition of the first anniversary of the end of World War I? In 1926, Congress passed a resolution for it to be observed annually, and it became a national holiday beginning in 1938. In 1954, President Eisenhower officially changed the name of the holiday from Armistice Day to Veterans Day, as it is still called today. While Memorial Day honors those who died serving their country, Veterans Day pays tribute to all American veterans. It is a day designed to give special thanks to living veterans who served their country both in times of war or peace.
CCSD59 students and families, staff, and administration at schools across the district participated in activities honoring our community's veterans on this special day. In all different ways, students and staff came together to send a simple but significant message: thank you for all you did, and all you continue to do, for us.
Here are some of the many ways our schools paid tribute to veterans in all the armed forces for their service to our country:
Many schools had special assemblies where veterans came in to speak about their experiences in front of the whole school
Classrooms had special veterans day lessons, including interactive Q & A sessions with veterans. Many of the presenters were student family members, current CCSD59 staff, or administration members and their families
Veterans were invited to attend special breakfasts and participate in community school morning events, such as the pledge of allegiance
Students wore patriotic clothing and put on performances of patriotic songs, dedicated photo walls of veterans they know, and had parades
Schools created and dedicated patriotic displays including murals, thank you cards, flag displays, and other artwork at their schools
Students created handwritten cards and brought them, along with other gifts, to organizations that assist veterans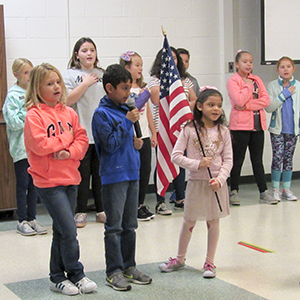 Throughout the day's events, students were actively listening to veterans and asking them thoughtful questions, thanking them, and participating in meaningful ways.
The veterans themselves also take great pride in sharing their experiences, knowledge, and service to their country with the students.
Jim Borchick, whose daughter attends Ridge, has participated in the veterans day activities every year since his daughter started school there. A Corporal in the USMC for four years, he discussed Desert Storm, but also greatly enjoyed discussing the humanitarian efforts that the US military provided while he was in the service, including building schools and hospitals in very poor countries and buying all the sweets he could find to give to children who never had them. "The main things I want the children to take away from my speaking at the Veterans Day event is that the military isn't just about war and fighting," Borchick said. "Service to this country is a great thing and seeing how people live around the world can really make you appreciate things."
Jerry McClellan, who was in the US Air Force for 26 years as a pilot and engineer and had reached the rank of Colonel, also returns to Ridge every year to speak at their Veterans Day event. "It is of course, a good feeling to be recognized for what one has done, but more importantly, it is reassuring and heartwarming to see that such a program can be part of our public education," he said. "I salute the District and the school for having this program. I believe that emphasizing service to the country and recognizing those who serve or have served are as critical to public education as teaching American values, freedoms, and opportunities."