Forest View's John David honored as top elementary P.E. teacher in Illinois
As a senior in high school, John David had already participated as a physical education leader in class for multiple years. That year, he wrote a 10-page essay with a focus on what he would want to do for the rest of his life. He already had notions of teaching professionally.
Now, in his 13th year as a physical educator at CCSD59, he is recognized as one of the best in the state at his craft.
Each year, the Illinois Association for Health, Physical Education, Recreation & Dance (IAPHERD) receives nominations for the top physical educators across Illinois and selects a Teacher of the Year in multiple categories. Earlier this month, IAPHERD announced that Mr. David has been chosen as the 2020 Illinois Elementary P.E. Teacher of the Year.
"The outpouring of support from friends and family has been incredible," he said. "I got the call from someone on the awards committee that I have worked with at the state level, so it was nice to hear it from them."
Mr. David was originally named the top Elementary P.E. teacher for the Northeastern District in April. The district, which is organized by IAPHERD, covers all of Cook County outside of Chicago. He was then placed in a final round of six candidates, one representing each district in the state.
Ms. Julie Botkin of Rupley Elementary was also selected as the Northeastern District Teacher of the Year in the Adapted P.E. category in April.
"My colleagues and friends have been very supportive," Mr. David said. "I received congratulatory texts before I had even seen the news myself. I know many of the previous winners and I feel like they are the best of the best, so to be mentioned in the same sentence as them is amazing."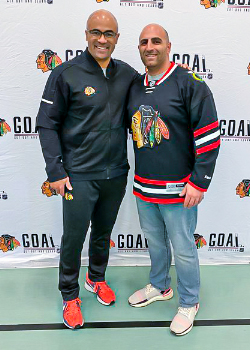 The award serves as a fitting recognition of the dedication that Mr. David has for his classes. He has always wanted his students to come away from his class with new skills. In following the district statement of "Preparing Students to Be Successful for Life", he believes building a habit of challenging yourself outside of your comfort zone will reflect positively in the future.
This motivates him to constantly come up with new activities and experiences for his students. In March, he brought Stanley Cup Champion Jamal Mayers to his class along with Chicago Blackhawks Youth Hockey. Giving his students a chance to work on a new sport and provide a unique opportunity to work with a professional athlete is just one example of how he tries to make each class special.
"Whether it's a pull up, juggling scarves, or rock climbing, I want to expand their horizons and give them as many opportunities to be physically active as possible," he said. "People like to do what they're good at and if they've never tried something new as a kid, they may not try it as an adult."
Mr. David and the other winners are scheduled to be honored on Dec. 3 at the Tinley Park Convention Center.