ISBE Honors Veronica Rodriguez, Juliette Low, as Illinois Bilingual Teacher of the Year
Veronica Rodriguez carries the mindset that one educator can change the trajectory of a child's life. She experienced that as a young student, and that guidance encouraged her to become a teacher.
Fast forward 14 years into her professional career at Juliette Low Elementary, and she has been recognized among the best in the state.
On Tuesday, the Illinois State Board of Education (ISBE) announced that Mrs. Rodriguez has been chosen as the 2021 Illinois Bilingual Teacher of the Year. She is the first recipient of this honor as part of ISBE's Those Who Excel Program.
"I am honored and blessed to have won this recognition and to be representing all bilingual and dual language teachers across Illinois," Rodriguez said. "All my students and their families are also winning this with me. They are a big part of my journey and the reason I am here. I am extremely proud of my students and grateful to have been given the opportunity to be their teacher."
Each year, the Those Who Excel Program recognizes a variety of educational staff, community members, and volunteers who have made outstanding contributions to elementary and secondary education. The top honor in this program has traditionally been the Illinois Teacher of the Year. ISBE added new awards to recognize a top bilingual, early childhood, and special education teacher this year.
Representatives from ISBE and Juliette Low surprised Mrs. Rodriguez with the news last week on a virtual call.
"Your passion and determination is not only reflected in the success of your students, but now, with this award, you represent the best of bilingual educators from across the state," said Dr. Ernesto Matias, ISBE Education Officer. "We are excited to see how you will serve as an ambassador to educators throughout Illinois."
Mrs. Rodriguez first joined CCSD59 in 2006 and has taught dual language students at Juliette ever since. She spent 10 years as a Kindergarten teacher and now teaches third and fourth grade students. She has also been active in multiple committees, including District Spanish Content Allocation and her Building Leadership Team, served as a mentor for fellow teachers, and acted as an English Language Learner Liaison to the district.
"I have learned and grown so much as an educator in this district," she said. "I thank my entire team, Juliette Low, and the district overall, because I wouldn't be here if CCSD59 didn't allow me to show that growth."
Being the first educator in Illinois to receive this recognition from ISBE for her work with dual language and bilingual students hits particularly close to home. She prioritizes meeting each student's needs based on where he or she is in language, academic, and social emotional progression. She also makes sure to instill the lessons she learned at an early age.
"My parents immigrated here and I grew up in a very humble environment. I am a young latina from Chicago who tried to keep going even in the face of adversity. I feel blessed to be able to show other young educators that it's not about where you come from or what happens to you, but how you can show resilience even through hard times. When I began my career, I would have never imagined being recognized like this. It shows that what you put out into the world comes back to you tenfold."
Mrs. Rodriguez will act as an ambassador for dual language and bilingual teachers across the state over the next year. As those duties begin, she will continue to focus on helping her students grow in all aspects of their educational and personal lives.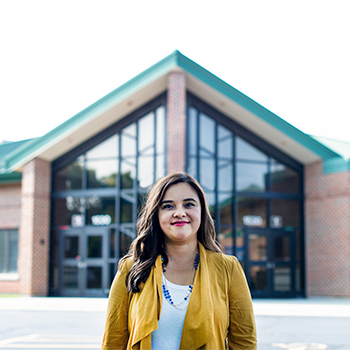 "Mrs. Rodriguez puts a great deal of time in developing strong relationships with her students and families," said Susan Ejma, Principal at Juliette Low. "This deep connection is one of her many traits in being an outstanding teacher. She wants every child to know how special they are in this world, connect with each other as a learning community, and make sure every student is seen in her classroom."
ISBE will formally recognize Mrs. Rodriguez and her fellow recipients at the ISBE meeting on Oct. 21.