Journey to Eagle Scout Status Leads to Gift for Forest View
If you were to achieve something that less than 10 percent of your peers could match, that would be noteworthy in any field. This can be applied to the status of Eagle Scout, which roughly five percent of all members of the Boy Scouts of America (BSA) earn.
CCSD59 alumnus Robi Roy is one of the latest to achieve that rank. He did so by completing a long-awaited project, one which allowed him to beautify the exterior of Forest View Elementary School.
Roy is a recent graduate preparing to pursue engineering in the fall. Prior to that, he was a student at both Forest View and Holmes Junior High. His legacy to Forest View – two new outdoor benches and new greenery – is now visible to all.
Earning the highest rank in BSA requires a great deal of hard work. Roy's Scoutmaster, Mark Meckes, was very pleased by Roy's dedication to his project.
"Robi's project was well thought-out, executed with intention, and gave back to his former school and community," said Meckes. "It is no surprise that he is part of this select group."
Every Eagle Scout project requires a great deal of planning. It requires a 30+ page Eagle Workbook with a registration application which includes the project proposal, planning process, and a project report. It must be approved by the Scouts and also by the organization that is benefitting from the project.
Roy already knew by the time he was a freshman in high school that he wanted Forest View to be the beneficiary of his Eagle Scout project. He approached former principal Meg Weickert much earlier than many scouts with similar goals.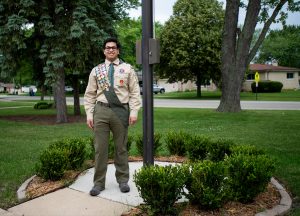 "I started my whole Pre-K education here, but the most important part is that I started Cub Scouts here," Roy said. "So for the scouting program to start here, I thought it would be bittersweet it I finished it here too. I saw an opportunity here to give back to my community."
Roy started the process so early that he ended up having to delay the project a couple of years so that some of the necessary skill sets could catch up to his enthusiasm. He admitted he had a lot to learn, including everything from how to use architectural software to how to best negotiate the pricing.
"He was really thinking ahead when he first started talking to us," said Weickert. "When he came back this year and said he was ready to go, we were excited to see he had put all the pieces in place to be able to initiate it."
Eagle Scout projects can also require monetary contributions in addition to fundraising efforts. While the Scouts have a vast network of tools from former projects that allowed Roy to keep expenses down, he and his father still contributed about $2,000 in materials and expenses. He did opt for slightly more expensive benches made from recycled materials that would not deteriorate over time.
One of Roy's most important takeaways from his project was to be a leader, not a boss. It took his team roughly five hours to complete the installation. Weickert, head custodian Paul Freedman, his Scouts Troopmaster and troop, and his father were among those that helped.
"My dad has inspired me to be an engineer myself, with how these programs were so useful to me. He always said: 'I am a resource for you.' He has given me so much more than I could have asked for," Roy said.
Roy hopes that his project inspires current and future students at Forest View to do their best, honor their commitments, and remember their community roots.
"Fortunately, I've been able to grow up at a school like Forest View, that has so many resources, such good staff, and a huge facility with a great playground. It's been the most perfect experience growing up in my education. I can't imagine doing a project anywhere else could have been this successful."