Salt Creek families use virtual scavenger hunt to connect over spring break
Whether they traveled or stayed close to home, students and families across CCSD59 took part in a variety of activities over spring break. At Salt Creek Elementary, some headed outdoors as part of a fun contest with friends and classmates. 
Bo Phillips, a physical education teacher at Salt Creek, wanted his students to keep moving during the week away from school. He also saw value in keeping both in-person and remote students connected to some familiar faces while at home, so he invited all families to participate in a virtual scavenger hunt.
"It is very important and serves many purposes for students and families to stay in touch with friends and school as we head towards the summer," Phillips said. "This provides a much-needed mental break because these are fun, safe activities that can be completed without restrictions." 
Through the GooseChase App, students could partner with their families to complete challenges by performing certain tasks. The game encourages participants to capture these moments and upload photos and videos to a database that tracks team rankings. 
"Some missions have required them to show off their yoga skills, create secret handshakes, sing Karaoke, or hold their own dance parties," said. "Others have them go outside and locate animals, signs, bodies of water, or just get some exercise.Students were also prompted to help families with cooking or support local businesses for some entries. Phillips rolled out new surprise challenges every day and encouraged participants to use math, reading, and memory skills throughout the week. Bonus points were also awarded for adding a touch of comedy.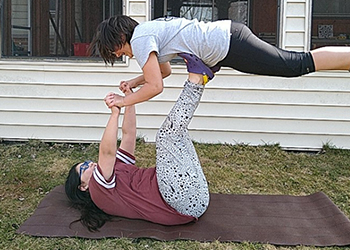 Around 20 families with students from all grade levels got involved in the week-long event, and Phillips hopes that number will grow with future scavenger hunts. 
"It has been a great method to laugh, stay active, and spend time together with family. Many missions require families to work together and get creative, which has been my favorite part to see."