STEM classes at Holmes bring original theme park to life
Did the idea of designing a theme park ever cross your mind when you were younger? As it happens, students at Holmes Junior High were able to put that notion to work in recent weeks. 
You will find a miniature model of a freshly-designed park resting in Dan Mowery's classroom at Holmes. Different sections showcase familiar themes and characters spanning Video Game Land, Cartoon World, Skytopia, and others. 
The project is a collaboration between four STEM (Science, Technology, Engineering, and Math) classes: Design and Modeling, Automation and Robotics, Sculpture Studio, and Intro to Engineering. Together, students representing these classes conceptualized the park from scratch, using lessons that had been instilled earlier in the semester. 
"It's the first time we have attempted a project of this scale," Mr. Mowery said. "We took the materials that Project Lead the Way provides and tried to expand it. I'm so impressed with how it turned out."
Students from grades 6-8 each had their own role to play, depending on the classroom they represented. Design and Modeling came up with the concepts for buildings, landscape, and pathways around the park. Automation and Robotics utilized early lessons on how to build motors, sensors, and gears to outfit the park with a ferris wheel, swing ride, and more. Sculpture Studio crafted and painted stationary buildings and other structures to follow the unique look of each land. 
What made the project unique was that separate classes did not directly communicate as part of this joint effort. Students simply saw ideas and concepts for the park and had to manifest them on their own. 
"You had to not just apply the mechanics, but think about the themes and the story your fellow students were trying to tell in their world," said Mr. Mowery. "Even though one group may not talk with the ones who came up with the idea, they can apply the idea and make it fit."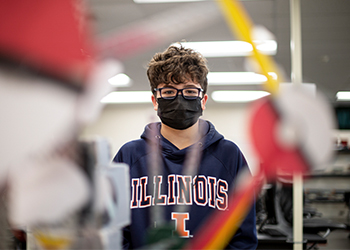 "They also had to keep in mind what separates a theme park from an amusement park. We looked at Disney World as an example, so they had to create a layout with pathways that made sense for patrons to move around the park." 
The students answered the challenge, pouring enough detail into the project that allowed it to bring the original ideas to life. Trees adorn walkways, storefronts sport familiar names and logos, and all the while students visualized how to create a skyline of larger structures in the back so it could conceivably be seen from oncoming patrons.
"It definitely turned out how I was thinking," said Abhi, a student who was involved with the initial concepts. "It reminded me of a game I used to play that had a primal theme, so that's how I pictured this land. I enjoy dinosaurs, so it's great to see this turn out how I thought it would."
While the nature of the project did not require direct contact between classes, it remains a shared experience and a shared success among the students. Although a new semester has begun, the park is a testament to lessons they will carry throughout the rest of the year. 
Luke, another STEM student, admitted he was surprised at how his fellow designers made the finished product shine with their attention to detail. 
"One of my friends actually ended up working on my idea," he said. "He told me he was going to include a ferris wheel, and I did not expect it to be so big. It's cool how they seemed to read my mind on some pieces."