Students Earn Reporting Tips, Learn to Find Good News in Summer Course
Joy is all around you, and if you try hard, you can find a lot of it.
That is the sentiment of Yukthi, a fifth grade student at Forest View Elementary and one of a handful of students that received a lesson in reporting this summer. 
As summer programs shifted to fully remote across CCSD59 this year, the district increased the number of Enrichment courses offered to students. The focuses ranged from music and cooking to science and coding, among others. One course, entitled Good News! Broadcast Journalism, sought to teach students the basics of journalistic writing, broadcasting, video editing, photography, and interview skills. 
"We covered the 'five W's and the H'," said Margaret Hulligan, an Instructional Coach at CCSD59. "How do you write a story? How do you convert it into being spoken? How do you let a person speak for themselves rather than writing it for them? Who is the expert on this topic?"
Hulligan, whose education included communications, worked with seven students during the summer to teach them not just how to find answers, but how to frame a story. The title of the course indicated that students were encouraged to find and present positive stories as they cut their reporting teeth. 
Students were still encouraged to choose their own topics of interest and present the "why", in terms of the reason behind their decisions. Most held similar motivations for wanting to take the course. They were already passionate about writing and researching, but wanted to gain a stronger understanding of certain topics or test their video editing skills. 
They also took a dive into the way they could frame their stories and how that could lead their audience to perceive the topics.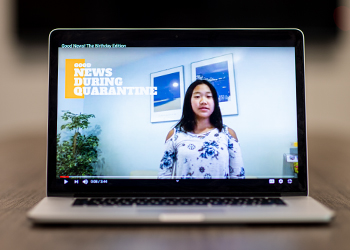 "We ran into discussions about how you can present news with a positive or negative focus," said Hulligan." You can choose interview clips that make it sound great or clips that don't make it sound great. The students came out with great discussions about how they could focus on the unfortunate or sad part of the story, but our purpose in the course was to find the good."

The group universally chose subjects that have been affected by the COVID-19 pandemic. Each student naturally gravitated toward learning how groups and business were helping each other overcome roadblocks and adjust to life during this time. Class members were tasked with finding the right line of questioning to form a presentable story, and most were tackling it for the first time. 
"I learned about what the school district administration was doing to help people affected by the pandemic, how stores are coping in the current situation, how farmers are working, and how people are turning vegan to build their immunity," said Naissha, a seventh grade student at Holmes Junior High. "This was so much more than I thought I would learn, and I found it so cool that I got to get a little peep into how others are doing."
Members of the CCSD59 School Leadership Team pitched in to provide interviews, including Dr. Art Fessler, Superintendent of Schools, and Maureen McAbee, Assistant Superintendent of Instruction. Students also covered how restaurants are coping with restrictions on indoor dining, how elderly residents are handling visitation limitations, and how public safety has changed since Illinois entered Phase 4 of its reopening plan. 
Charlotte, another seventh grade student at Holmes, sought out Dan Naughton, a Buffalo Grove resident who specializes in chalk art, as part of her report on small acts of kindness. Like her classmates, she had to overcome initial jitters about conducting interviews. 
"If I could get to know the person before asking them prepared questions, I was able to feel more comfortable," she said. "It was strange because I was always talking to people older than myself, so I had to adjust to their sense of humor and not make it seem like I'm a robot. That way, I can adjust and try to act natural."
"Updated and timely news is essential in people's lives to help them stay aware of changes around them."
-Eashan, Holmes Student
After compiling interviews and completing their research, students utilized video editing software to create and present their report. Multiple students noted how the project taught them patience and a new understanding for how to write efficiently and effectively. 
Several also mentioned how the course allowed them to not only come away with a stronger understanding of how to investigate new issues, but to look for positives in any challenging situation.
"News can come from the smallest of places," said Naissha. I learned that a reporter has to dig deep into a topic, ask the right questions, and use the right tools to get it in front of an audience."
Every edition of Good News! can be viewed here.