Healthy Snack Options
Opciones de bocadillos saludables
Community Consolidated School District 59 is working to prepare students to be successful for life. Developing healthy habits with nutrition, wellness, and physical activity is very important for our students. We are working together with stakeholders to ensure that our students are prepared for a healthy and successful future.
The Child Nutrition and WIC (Women, Infants and Children) Reauthorization Act of 2004, requires all school districts participating in federal school meal programs to create and implement school wellness policies. In 2010, the Healthy, Hunger-Free Kids Act strengthened local wellness policy requirements and added requirements for public participation, transparency and implementation. These policies must address nutrition education, nutrition standards for foods sold within the school day, and physical activity.
District 59 Wellness Policy Provides A Framework For Healthy Living
The District's Policy promotes thoughtful planning, portion control, and the selection of non-food or tasty and nutritious food options for celebrations.  The policy also encourages students and families to engage in physical activities as part of developing a healthy lifestyle.
Recommendations for Board Policy Section 6 – Instruction, 6:50 School Wellness were produced by Community Consolidated School District 59 Wellness Committee, Winter 2014.
Board Policy Section 6 – Instruction, 6:50 School Wellness
---
Goals For Nutrition Education
To prepare students to be successful for life:
Schools will support and promote good nutrition and a healthy lifestyle for students.
Schools will foster the positive relationship between good nutrition, physical activity, and the capacity of students to develop and learn healthy habits.
Nutrition education will be part of the district's curriculum.
---
Goals For Physical Activity
To prepare students to be successful for life:
Schools will support and promote an active lifestyle for students.
Physical education will be taught in all grades and include a developmentally planned and sequential curriculum that fosters the development of movement skills, enhances health-related fitness, increases students' knowledge, offers direct opportunities to learn how to work cooperatively in a group setting, and encourages healthy habits and attitudes for a healthy lifestyle.
---
Nutrition Guidelines For Foods Available In Schools During The School Day
Students will be offered and the school will promote nutritious food and beverage choices consistent with the current dietary guidelines for Americans and Food Guidance System published jointly by the U.S. Department of Health and Human Services and the Department of Agriculture.
Providing nutritious snacks during the school day demonstrates a school and community commitment to promoting healthy behaviors and academic performance.
---
Benefits Of Nutritious Food Choices:
Promotes a healthy school environment
Creates excitement about nutrition
Protects children with food allergies
Provides nourishment the brain needs to learn
---
Consequences Of Poor Food Choices:
Compromised classroom learning
Contributes to poor health
Encourages overconsumption of unhealthy food
Lack of fuel the brain needs to learn
---
Lunch and Snacks brought from home:
Parents are encouraged to send food items that will make positive contributions to the child's diet and health. Students may not share food in order to protect those who may have a food allergy.
---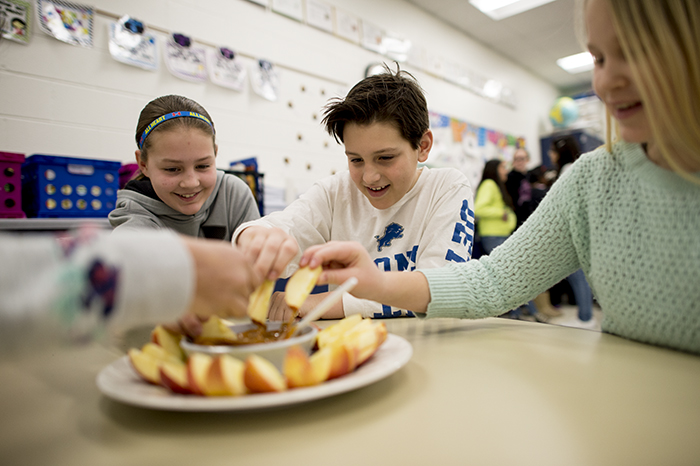 Healthy Celebrations
Class parties and birthday celebrations must align with the Wellness Policy and recommendations. Since student allergies and other health concerns must be taken into careful consideration to ensure the safety of all students, home-baked goods cannot be accepted or distributed to our students.
Instead, schools are encouraged to discover ways to celebrate with healthy foods or non-food items/activities. We recommend having fun activities that get students moving and build collaboration skills. Celebrations are a great time to participate in activities that enhance Social/Emotional Learning skills that prepare students for life.
Here are a few examples of healthy choices for honoring your children on their special day:
Donate a book to the school library or classroom in honor of your child's birthday with his/her name inside.
Have your child bring their favorite book to share and the teacher or child will read it to the class.
Donate a ball or jump rope (new or used) to the classroom for recess.
Provide each student in the class with a colorful pencil, stickers or eraser.
Choose a favorite song or musical piece to sing or play for the class.
---
Snacks Within The School Day
Snacks/beverages consumed within the classroom should be regulated through a building-level plan as authorized by the building principal to ensure that appropriate guidelines are followed and to promote the health and safety of all students. When snacks are provided, it is important for a classroom to schedule a "healthy snack" time on a daily basis. Snacks that are high in fiber, such as fresh fruits and vegetables and/or low in fat (less than 5 grams), are recommended. Pre-packaged processed foods that are generally high in calories, sugar, sodium, and fat and have little nutritional value should be avoided. Limited portion sizes are also recommended so that the snack/beverage does not become a substitute for a nutritious meal and can be eaten within a limited time period. School-wide celebrations will be planned in cooperation with building administrators and PTO representatives with nutrition in mind. Due to the dangers of nut-based allergies, there should be no food items containing nut products distributed during school wide celebrations.
---
Teacher-To-Student Incentives
Teachers are encouraged to seek alternatives to using food as a reward. If school rewards/celebrations do involve food, healthy options and/or appropriate sizes should be served.
---
Monitoring Of The Wellness Plan
The District Wellness Committee will assist in working with staff to ensure that each school has the information needed to meet the recommendations and expectations of the local wellness policy. Parent, faculty, and staff input will be included when conducting annual compliance reviews of the district policy and recommended practices.
---
Did You Know?
The estimated lifespan of today's children is shorter than their parents'!
Obesity is reaching epidemic proportions. According to the Surgeon General, the negative health effects could become the same as cigarette smoking. More children are suffering from conditions that typically affect older adults, including high cholesterol, Type 2 Diabetes, high blood pressure, orthopedic problems, and more!
Overweight and obese children are absent from school 4 times the rate of their normal weight peers.
Overweight and obese children go to the emergency room more than their normal weight peers (for non-accident related incidents.)
---
Healthy Eating
Consider nutritional quality when choosing meals and snacks.  Most of the snacks served to children should be fruits and vegetables, since most kids do not eat the recommended number of fruits and vegetables each day. Eating fruits and vegetables lowers the risk of heart disease, cancer, and high blood pressure.
Fruits:
Apples
Melons
Banana
Nectarines
Berries
Oranges
Cantaloupe
Plums
Grapes
Pineapple
Kiwis
Vegetables:
Broccoli
Carrots
Cauliflower
String Beans
Celery Sticks
Cucumber
Peppers
Snap Peas & Snow Peas
Tomatoes
Dips:

Try low-fat salad dressings, store-bought light dips, bean dips, guacamole, salsa, or hummus as healthy alternatives.

Dairy & Grains:
Low-fat and Fat-Free Yogurt
Low-Fat Cheese
Low-Fat Pudding
Whole Grain Crackers
Granola & Cereal Bars
Baked Tortilla Chips
Rice Cakes
Popcorn
---
About Fruit Snacks:
Many fruit snacks are more candy than fruit. Try natural fruit leathers, which come in a variety of flavors and don't have added sugars.
Health is Wealth
Community Consolidated School District 59 recognizes its responsibility to provide a healthy learning environment by supporting wellness, good nutrition and regular physical activity. The wellness policy promotes life-long wellness behaviors and links healthy nutrition and exercise to students' overall physical well-being.
Healthy Body. Healthy Mind. Healthy Learning!
Community Consolidated School District 59 está trabajando para preparar a los estudiantes para tener éxito en la vida. Desarrollar hábitos saludables con la nutrición, el bienestar y la actividad física es muy importante para nuestros estudiantes. Estamos trabajando junto con los interesados ​​para asegurar que nuestros estudiantes estén preparados para un futuro saludable y exitoso.
La Ley de Reautorización de la Niñez y la Infancia (WIC) de 2004 (The Child Nutrition and WIC Reauthorization Act of 2004), exige que todos los distritos escolares que participan en programas de comidas escolares federales creen e implementen políticas de bienestar escolar. En 2010, la Ley de Niños Sanos y Sin Hambre (Hunger-Free Kids Act) fortaleció los requisitos de la política de bienestar local y añadió requisitos para la participación pública, la transparencia y la implementación. Estas políticas deben abordar la educación nutricional, las normas de nutrición para los alimentos vendidos dentro de la jornada escolar y la actividad física.
La Política de Bienestar del Distrito 59 proporciona un marco para una vida saludable
La Política del Distrito promueve la planificación reflexiva, el control de las porciones y la selección de opciones de alimentos no nutritivos o sabrosos y nutritivos para las celebraciones. La política también alienta a estudiantes y familias a participar en actividades físicas como parte del desarrollo de un estilo de vida saludable.
Recomendaciones para la Política de la Junta La Sección 6 – Instrucción, 6:50 Bienestar Escolar fue producida por el Comité de Bienestar del Community Consolidated School District 59, Invierno 2014. (Board Policy Section 6- Instruction, 6:50 School Wellness were produced by Community Consolidated School District 59 Wellness Committee, Winter 2014)
Política de la Mesa Directiva Sección 6 – Instrucción, 6:50 (Board Policy Section 6- Instruction, 6:50 School Wellness)
---
METAS PARA LA EDUCACIÓN NUTRICIONAL
Preparar a los estudiantes para tener éxito en la vida:
Las escuelas apoyarán y promoverán una buena nutrición y un estilo de vida saludable para los estudiantes.
Las escuelas fomentarán la relación positiva entre la buena nutrición, la actividad física y la capacidad de los estudiantes de desarrollar y aprender hábitos saludables.
La educación en nutrición será parte del plan de estudios del distrito.
---
METAS PARA LA ACTIVIDAD FÍSICA
Preparar a los estudiantes para tener éxito en la vida:
Las escuelas apoyarán y promoverán un estilo de vida activo para los estudiantes.
La educación física se impartirá en todos los grados e incluirá un plan de estudios planificado y secuencial que fomente el desarrollo de habilidades de movimiento, mejore la aptitud relacionada con la salud, incremente el conocimiento de los estudiantes, ofrezca oportunidades directas para aprender a trabajar cooperativamente en un ambiente grupal y Fomenta hábitos y actitudes saludables para un estilo de vida saludable.
---
DIRECTRICES NUTRICIONALES PARA LOS ALIMENTOS DISPONIBLES EN LAS ESCUELAS DURANTE EL DIA ESCOLAR
Se ofrecerá a los estudiantes y la escuela promoverá comidas nutritivas y opciones de bebidas consistentes con las actuales pautas dietéticas para los estadounidenses y el Sistema de Guía de Alimentos (American and Food Guidance System) publicado conjuntamente por el Departamento de Salud y Servicios Humanos de los Estados Unidos (U.S. Department of Health and Human Services) y el Departamento de Agricultura (Department of Agriculture).
Proporcionar aperitivos nutritivos durante el día escolar demuestra un compromiso de la escuela y la comunidad para promover comportamientos saludables y rendimiento académico.


---
BENEFICIOS DE LAS OPCIONES ALIMENTARIAS NUTRICIONALES:
Promueve un ambiente escolar sano
Crea emoción sobre la nutrición
Protege a los niños con alergias a los alimentos
Proporciona alimento que el cerebro necesita para aprender


---
CONSECUENCIAS DE LAS POBRES OPCIONES ALIMENTARIAS:
Aprendizaje comprometido en el salón
Contribuye a la mala salud
Alienta el consumo excesivo de alimentos poco saludables
Falta de alimento que el cerebro necesita para aprender


---
ALMUERZO Y BOCADILLOS TRAÍdos DEL HOGAR:
Se anima a los padres a enviar artículos alimenticios que hagan contribuciones positivas a la dieta y a la salud del niño. Los estudiantes no pueden compartir alimentos con el fin de proteger a los que pueden tener una alergia a los alimentos.
---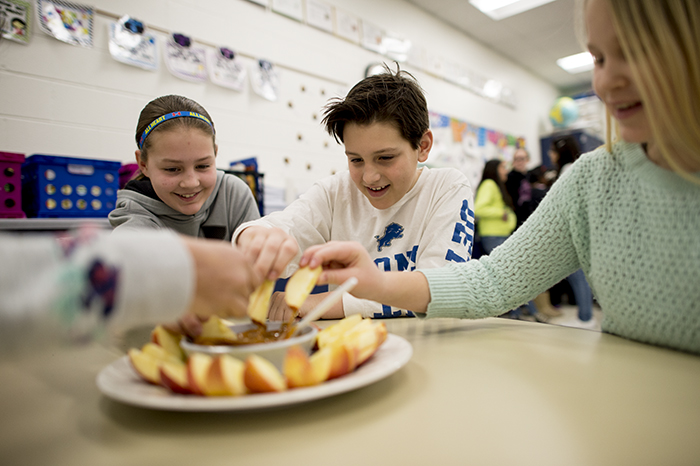 CELEBRACIONES SANAS
Las fiestas de clase y las celebraciones de cumpleaños deben alinearse con la Política de Bienestar (Wellness Policy) y las recomendaciones. Se alienta a las escuelas a descubrir maneras de celebrar con alimentos saludables o artículos/actividades no alimentarios. Le recomendamos que tenga actividades divertidas que hagan que los estudiantes se muevan y construyan habilidades de colaboración. Las celebraciones son un buen momento para participar en actividades que mejoran las habilidades de Aprendizaje Social/Emocional que preparan a los estudiantes para la vida.
Aquí hay algunos ejemplos de opciones saludables para honrar a sus hijos en su día especial:
Done un libro a la biblioteca o a la clase en honor del cumpleaños de su niño(a) con su nombre dentro.
Haga que su hijo(a) traiga su libro favorito para compartir y el maestro o niño(a) lo lea a la clase.
Done una pelota o cuerda de saltar (nueva o usada) al salón de clase para el recreo.
Provea a cada estudiante en clase con un lápiz colorido, pegatinas o goma de borrar.
Elija una canción favorita o pieza musical para cantar o jugar para la clase.


---
bocadillos DENTRO DEL DIA ESCOLAR
Los bocadillos/bebidas consumidos dentro del salón deben ser regulados a través de un plan a nivel de edificio como lo autorice el director del edificio para asegurar que se sigan las pautas apropiadas y para promover la salud y seguridad de todos los estudiantes. Cuando se ofrecen bocadillos, es importante que un salón programe un tiempo de merienda saludable diariamente. Se recomiendan aperitivos que son altos en fibra, tales como frutas y verduras frescas y/o bajos en grasa (menos de 5 gramos). Los alimentos procesados ​​pre-empaquetados que son generalmente altos en calorías, azúcar, sodioy grasa y tienen poco valor nutritivo deben ser evitados. Tamaños limitados de las porciones también se recomiendan para que la merienda/bebida no se convierta en un sustituto de una comida nutritiva y se puede comer en un período de tiempo limitado. Las celebraciones en toda la escuela serán planeadas en cooperación con los administradores de edificios y representantes de la PTO teniendo en cuenta la nutrición. Debido a los peligros de las alergias a base de nuez, no debe haber alimentos que contengan productos de nuez distribuidos durante las celebraciones de toda la escuela.
---
INCENTIVOS DE MAESTRO-A-ESTUDIANTE
Se anima a los maestros a buscar alternativas para usar el alimento como recompensa. Si las recompensas/celebraciones escolares involucran comida, se deben servir opciones saludables y/o tamaños apropiados.
---
MONITOREO DEL PLAN DE BIENESTAR
El Comité de Bienestar del Distrito (District Wellness Committee) ayudará a trabajar con el personal para asegurar que cada escuela tenga la información necesaria para cumplir con las recomendaciones y expectativas de la política de bienestar local. Se incluirá la contribución de los padres, la facultad y el personal al realizar exámenes anuales de conformidad de la política del distrito y las prácticas recomendadas.
---
¿SABÍA?
¡La esperanza de vida estimada de los niños de hoy es más corta que la de sus padres!
La obesidad está alcanzando proporciones epidémicas. Según el Cirujano General, los efectos negativos sobre la salud podrían convertirse en lo mismo que fumar cigarrillos. ¡Más niños sufren de condiciones que típicamente afectan a adultos mayores, incluyendo colesterol alto, diabetes tipo 2, presión arterial alta, problemas ortopédicos y más!
Los niños con sobrepeso y obesidad están ausentes de la escuela 4 veces la tasa de sus pares de peso normal.
Los niños con sobrepeso y obesidad van a la sala de emergencias más que sus pares de peso normal (para incidentes no relacionados con accidentes).


---
ALIMENTACIÓN SALUDABLE
Considere la calidad nutricional al elegir comidas y bocadillos. La mayoría de las meriendas que se sirven a los niños deben ser frutas y verduras, ya que la mayoría de los niños no comen el número recomendado de frutas y verduras cada día. Comer frutas y verduras reduce el riesgo de enfermedades del corazón, cáncer y presión arterial alta.
Frutas:
Manzanas
Melones
Plátano
Nectarinas
Bayas
Naranjas
Cantalupo
Ciruelas
Uvas
Piña
Kiwis
Vegetales:
Brócoli
Zanahorias
Coliflor
Habichuelas
Tallos de apio
Pepino
Pimientos
Guisantes rápidos y guisantes de nieve
Tomates
Salsas:

Pruebe los aderezos para ensaladas bajos en grasa, las salsas ligeras compradas en la tienda, las salsas de frijoles, el guacamole, la salsa o el hummus como alternativas saludables.

Lechería y Granos:
Yogurt bajo en grasa y sin grasa
Queso bajo en grasa
Pudín bajo en grasa
Galletas de grano entero
Granola y barras de cereales
Chips de tortilla al horno
Pasteles de arroz
Palomitas de maiz
---
Acerca de Snacks de frutas:
Muchos bocadillos de frutas son más dulces que las frutas. Pruebe los cueros de frutas naturales, que vienen en una variedad de sabores y no tienen azúcares añadidos.
Salud es riqueza
Community Consolidated School District 59 reconoce su responsabilidad de proveer un ambiente de aprendizaje saludable al apoyar el bienestar, la buena nutrición y la actividad física regular. La política de bienestar promueve comportamientos de bienestar a lo largo de toda la vida y vincula la nutrición y el ejercicio saludables al bienestar físico general de los estudiantes.
CUERPO SALUDABLE. MENTE SANA. ¡APRENDIZAJE SANO!