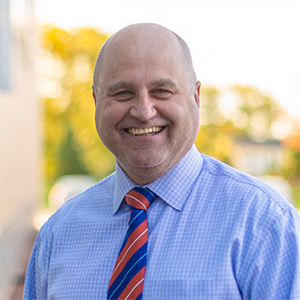 Tom Luedloff
Associate Superintendent
(847) 593-4300
[email protected]
The Superintendent's office is responsible for overseeing the efficient operation of Community Consolidated School District 59. The Superintendent is the district's executive officer and is responsible for the administration and management of the district schools in accordance with Board of Education policies, directives, and state and federal law.
---
Dear CCSD59 Parents and Families,
It is the hard work and dedication of our students, families, and staff that truly make it an honor to serve as the CCSD59 Superintendent of Schools. I'm looking forward to continuing to partner with the community to provide a relevant and meaningful learning experience for all students. The focal point of this important work remains to center on creating learning experiences that will prepare our students to be successful for life in the 21st century. Our collective goal is to develop lifelong learners equipped to navigate the challenges of a fast-changing global economy.
CCSD59 staff and leaders continue to spend significant amounts of time developing and refining learning experiences for students that focus on application of foundational skills and modern learning skills and practices. We are committed to developing and implementing learning opportunities that provide application of learning versus repetition of information and knowledge, this type of teaching and learning is meaningful and exciting for our students and staff. We have also increased our attention on the development of the whole child by establishing a shared focus on social emotional learning, language development, and intervening to support students and families from birth through eighth grade. CCSD59 has committed to early intervention on behalf of our students and will continue to do whatever it takes to put our students and their needs first.
Collectively, the district is called upon to create an educational experience designed to meet the needs of all learners preparing each for the 21st century. The school and parent partnership plays a vital role in this preparation. Your encouragement and support of your student's educational journey are paramount to achieving student success. This goal will continue to be one of the highest priorities of the CCSD59 staff and school board. CCSD59 has a solid foundation and will continue to accelerate on a path to ever-increasing educational excellence.
Looking ahead, I have complete confidence that with responsive and progressive leadership, staff, and family support, we will maintain sound practices, inspire each other, build support, and most importantly, continue to cultivate positive student learning experiences that prepare students to be successful for life.
Again, I would like to thank you for helping create a positive educational atmosphere in CCSD59, and I look forward to more success in the future.
Sincerely,
Dr. Art Fessler
Superintendent of Schools
---
Since 2012 District 59 has:
Focus & Direction
In partnership with the Board of Education, developed a CCSD59 Strategic Plan to guide our future work focus and direction
Developed our mission statement: "Preparing Students to be Successful for Life"
Continued to develop a culture of "One District – One Population – One Core Purpose"
Developed six areas of focus and provided professional development in these six areas:

Increased focus on social emotional learning and brain development
Utilizing claim and evidence in daily instruction
Thinking classrooms that integrate 21st century learning skills in daily instruction
Providing increased class time practice and focused feedback to students
Instructional design that utilizes outcomes-based thinking and planning
Developing a deeper understanding of all content standards including the new CCSS

Updated our areas of focus and professional learning support for the 2019.20 school year to include:

Student Learning and Student Growth: Educating and assessing the whole child for success in life.

Instructional Practice: Utilizing high impact instructional strategies and professional learning to maximize student growth and achievement.

Meeting the Needs of All Students: Providing ongoing academic and social and emotional support and intervention birth – 8th grade
---
Instruction, Curriculum Design & Assessment
Developed learning outcomes in each subject area that define our learning expectations for students and serve as the foundation for our curriculum

Adopted a balanced approach to reading and writing instruction that emphasizes the development of both the will and the skill that will help students become more complete readers and writers in life

Provided staff with job-embedded professional development through instructional coaching teams that support teachers in planning, instruction, and assessment

Shifted our bilingual programs (Spanish and Polish) to a dual language model, which is a language acquisition model that has a focus on bi-literacy

Expanded our assessment system to include the Fountas and Pinnell and FAST assessments

Implemented of a set of common elements at K-5 schools, including daily social emotional learning, extended team planning, reading/writing workshop, math workshop, and guided reading

Developed a Multi-Tiered System of Supports (MTSS) process to identify and monitor students academic and behavioral needs

Transitioned from a pull-out intervention model to a push-in model to support more students within the context of their classroom learning environment

Provided elementary students with daily opportunities for physical activity through movement/brain breaks

Empowered and trained teams of teachers to use a backwards design approach to create units of study that provide meaningful learning experiences for all students, along with challenging assessment measures

Increased emphasis on mathematics instruction by aligning the scope and sequence for math, developing math learning experiences and assessments, and appointing a math director and facilitator to support the development of math curriculum and implementation of math instructional practices
---
Innovation and Communication
Provide access to learning devices for all students in grades preK-8. Students in grades kindergarten and first grade have individual access to an Acer 10 Chromebook tablet, and students in grades two through eight have access to an Acer Flip Chromebook

Provided staff with job-embedded professional development through seven innovative learning coaches who support the integration of innovative learning and teaching practices for the first two years of the new technology adoption

Implemented Innovative Professional Learning as part of the staff Professional Learning Training process:

Innovative learning coaches and administrators designed and provided all trainings

Staff were provided session choices to best meet their individual learning needs

Session topics ranged basic technology training to 21st century learning best practices

Recognized by the White House Future Ready program as a Future Ready district. CCSD59 staff and students highlighted in a video at the White House and across the country at regional Future Ready Summits

Created a staff recognition communication series that includes a weekly staff celebration email and the 59 in :59 video series to recognize one staff member a month

Engaged a process to create a comprehensive communication plan that will establish a proactive, two-way system of communications to connect the district with all students, parents, staff, and community members

Partnered with the Instruction Department to create the Learning Lab, a web-based resource for staff to create, store, and share units and lessons throughout the district

Created a curriculum communications campaign to help parents and the community better understand the curriculum the district is building
---

Educational Services
Updated program descriptions and service delivery for ELC, ELS, LOP, CIP, and LBS programs and created program guides for parents and website

Provided intensive leadership support for the elementary Educational Life Skills Program

Increased alignment between specialized services and general education curriculum through integrated philosophies

Implement a New Digital Diagnostic Tool for Psychologists and Speech Pathologists

Re-designed the special education leadership model including adding additional support to the specialized programs

Developed a tiered service delivery model for Educational Services staff

Participated in the Early Learning Center design and opening of a state of the art ELC facility

Addition of the Family Facilitator position to build relationships with the community, as well as assist families in a more expansive manner at the Early Learning Center

Received the State Gold Seal Recognition for Early Childhood Programs

Provided a Special Education Leadership Development Series for Assistant Principals

Developed a district guide to healthy snacks aligned with new legislation

Revised McKinney Vento (Homeless) procedures and provided training for staff

Enhanced Medicare reimbursement and filing procedures

Updated student records procedures to align with new mandates

Updated school health procedures for critical care students and provided training

Conducted a comprehensive needs assessment to guide future planning

Implemented a tutoring partnership with Kids Hope at Byrd Elementary School

Erin's Law – provided lessons to pre-k through 8 students in the fall and spring

Provided support to school teams and buildings/training related to PBIS, Social-Emotional learning, FBA/BIP, Behavior, data collection, Autism, Speech and Language Dual Language, Co-teaching, Interpreter Assisted Evaluations

, Assistive Technology, Problem Solving, Indicator 13 (Transition)

Increased number of Assistant Principals in buildings to support special education and MTSS

Created digital IEPs, 504s and Health Care Plans using Skyward system and a facilitated IEP process

Health staff received training on Special Education Medical Reviews, concussion assessment, Diabetes Management in the School Setting, and 504 plans

Training in use of the Zones of Regulation Curriculum

ELS Essential Elements report card in alignment with general education report card

Increase in the amount of psychologist and social work support at the building level, one per building

Shifted from permanent records being held in paper format to digital format

Creation of a Developmental Kindergarten classroom

Improvements to website to include Mission, Vision for Ed Services

Began research of Special Education direct instruction curriculum and created timeline for implementation of professional learning and purchasing

Ed Services best practices manual development

Collaboration with Instruction and SEL departments to implement problem solving strategies and documentation at the Student Services Team meetings throughout the district
---
Social-Emotional Learning
Provide Social-Emotional Learning (SEL) opportunities, activities and embedded SEL skill building on a daily and weekly basis

SEL based staff – BOE approved hiring of psychologists, counselors, and social workers

Focused training on the impact of brain development, cultural background and the impact on learning

Aligned SEL with PBIS and MTSS

Provided support to buildings on understanding the 5 core SEL competencies

Implemented a tutoring partnership with Kids Hope at Byrd Elementary School

Participated in the Community Character Counts Program

Participated in the DuPage County SEL Leadership Partnership with CASEL

Social Thinking Training for all Social Workers and Material purchase

Implemented daily community building activities at elementary schools

Created committees aligned to SEL development, behavior intervention development, and family and community engagement

Provided soccer club to 2nd-5th graders in partnership with Elite Soccer Community Organization

Provided Ready Rosie and community-based supports to parents of children from birth to 8th grade

Provided a Community Cares Resource Directory, Hotline, and Clothing Closet

Led Coalition for Positive Youth Development – Elk Grove Committee
---
Professional Learning
I

mplemented a coaching model that provides staff with job embedded training to support student learning while building teaching and learning capacity

Providing extensive professional training for all leaders and staff supporting 21st century teaching and learning, social emotional learning and design for learning

Implemented weekly Professional Learning Time (PLT) for certified staff and administrators designed to provide and facilitate professional learning and planning opportunities that will lead to improved student growth in both the academic and social-emotional domains

Utilized globally recognized authors, researchers and thought leaders to train staff, administrators, and parents. Examples of trainers include:  Scott McLeod, Julie Adams, Grant Wiggins, Jay McTighe, Will Richardson and Steven Layne

Instituted Job-Alike training and collaboration sessions for specialized staff groups.

Facilitated the development of learning experiences.

Provided summer learning training opportunities for staff that are aligned to the district areas of focus.
---
Structures / Operations / Facilities / Partnerships
Extended the instructional day by 30 minutes in 13 schools

Launched full day kindergarten at all Title I schools and expanded district-wide in 2015 –16

Completed, Board approved, construction and opening of a new Early Learning Center for our youngest students

Maintained a AAA bond rating and annually received Certificates of Excellence in Financial Reporting from ASBO

Realigned programming to allow Friendship and Grove Clusters students to attend their home school for ELL services, with plans for the Holmes Cluster soon to follow

Restructuring of district level departments, redefining roles and responsibilities

Aligned planning and action to the financial parameters established by BOE policy

Enhanced collaboration with High School District 214

Completed Multi-year contracts for all negotiated employee groups.

Increased early learning opportunities with the implementation of a developmental kindergarten class and four year old preschool in 2017.18.
Dr. Fessler welcomes your feedback at [email protected]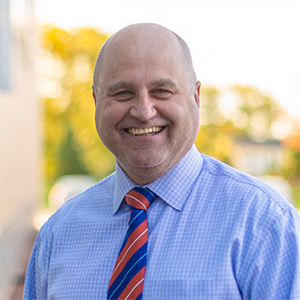 Tom Luedloff
Superintendente Adjunto
(847) 593-4300
[email protected]
El superintendente es el oficial ejecutivo del distrito y es responsable de la administración y gerencia de las escuelas del distrito de acuerdo con las políticas de la Junta de Educación, las directivas y las leyes estatales y federales.
---
Estimados padres y familias CCSD59,
Es con gran orgullo que doy la bienvenida a padres, familias y estudiantes al año escolar 2016-2017. Es verdaderamente un honor y un privilegio servir como Superintendente de Escuelas del Distrito 59. El próximo año escolar tiene muchos cambios y transiciones emocionantes para todos nuestros grupos de interés. Espero seguir colaborando con los estudiantes, el personal, los padres y la comunidad para proporcionar una experiencia de aprendizaje relevante y significativa para todos los estudiantes. El punto focal de este importante trabajo sigue siendo centrarse en la creación de experiencias de aprendizaje que preparará a nuestros estudiantes para tener éxito para la vida en el siglo 21. Nuestro objetivo colectivo es desarrollar a los aprendices de toda la vida equipados para navegar los retos de una economía global en rápido cambio.
Nuestro distrito continúa moviéndose en nuevas direcciones emocionantes en enseñanza y aprendizaje, aprendizaje innovador y comunicaciones. El personal y los líderes del Distrito 59 continúan gastando cantidades significativas de tiempo desarrollando experiencias de aprendizaje para estudiantes que se enfocan en la aplicación de destrezas fundamentales y habilidades de aprendizaje del siglo 21. Estamos comprometidos a desarrollar e implementar oportunidades de aprendizaje que proporcionen la aplicación del aprendizaje versus la repetición de la información y el conocimiento. También hemos aumentado nuestra atención en el desarrollo de todo el niño estableciendo un enfoque compartido en el aprendizaje social emocional, la ciencia del cerebro y el desarrollo del lenguaje. El Distrito 59 continuará haciendo lo que sea necesario para poner primero a nuestros estudiantes y sus necesidades.
Colectivamente, el distrito está llamado a crear una experiencia educativa eficaz diseñada para satisfacer las necesidades de todos los estudiantes que preparan cada uno para el siglo 21. La escuela y la asociación de padres desempeña un papel vital en esta preparación. Su estímulo y apoyo del viaje educativo de su estudiante es primordial para lograr el éxito estudiantil. Este objetivo seguirá siendo una de las prioridades más importantes del personal y la Junta Escolar del CCSD59. CCSD59 tiene una base sólida y continuará acelerando en un camino hacia la excelencia educativa cada vez mayor.
Mirando hacia el futuro, tengo total confianza en que con un liderazgo receptivo y progresivo, mantendremos prácticas fiscales sólidas y conservadoras, nos inspiremos mutuamente, construiremos el apoyo y lo más importante, continuaremos cultivando experiencias positivas de aprendizaje de los estudiantes.
Una vez más, quisiera darles la bienvenida a un año nuevo y emocionante, y los mejores deseos para un año exitoso.
Sinceramente,
Dr. Art Fessler
Superintendente de Escuelas
---
DESDE 2012 EL DISTRITO 59 HA:
Enfoque y dirección
En colaboración con la Junta de Educación, desarrollado un Plan Estratégico del Distrito 59 para guiar nuestro enfoque y dirección del trabajo futuro
Desarrollado nuestra declaración de misión: "Preparando a los estudiantes para tener éxito para la vida"
Continuado a desarrollar una cultura de "Un Distrito – Una Población – Un Propósito Fundamental"
Desarrollado seis áreas de enfoque y proporcionó desarrollo profesional en estas seis áreas:

    Mayor enfoque en el aprendizaje social emocional y en el desarrollo del cerebro
Utilizar la afirmación y la evidencia en la instrucción diaria
Aulas de pensamiento que integran las habilidades de aprendizaje del siglo 21 en la instrucción diaria
Proporcionar una mayor práctica en el tiempo de clase y retroalimentación enfocada a los estudiantes
Diseño instruccional que utiliza el pensamiento basado en los resultados y la planificación
Desarrollar una comprensión más profunda de todos los estándares de contenido incluyendo la nueva CCSS

Actualizado nuestras áreas de enfoque y apoyo de aprendizaje profesional para el año escolar 2017.18 para incluir:

Aprendizaje del estudiante y crecimiento del estudiante: Educar y evaluar a todo el niño para el éxito en la vida.
Práctica instructiva: Utilizar estrategias instructivas de alto impacto y aprendizaje profesional para maximizar el crecimiento y el logro estudiantil.
Satisfacer las necesidades de todos los estudiantes: Proporcionar apoyo académico y social y emocional continuo y nacimiento de intervención – 8 ° grado


---
Instrucción, Diseño y Evaluación del Currículo
Desarrollado resultados de aprendizaje en cada área temática que definen nuestras expectativas de aprendizaje para los estudiantes y sirven como base para nuestro currículo
Adoptado un enfoque equilibrado de la lectura y la escritura de la instrucción que enfatiza el desarrollo de la voluntad y la habilidad que ayudará a los estudiantes a convertirse en lectores más completos y escritores en la vida
Proporcionado al personal un desarrollo profesional incorporado en el trabajo a través de siete entrenadores de alfabetización que apoyan a los maestros en la planificación y proveen instrucción y evaluación de alfabetización
Trasladado nuestros programas bilingües (español y polaco) a un modelo de doble lenguaje, que es un modelo de adquisición del lenguaje que se centra en la bi-alfabetización
Expandido nuestro sistema de evaluación para incluir las evaluaciones Fountas y Pinnell y FAST
Implementado un conjunto de elementos comunes en todas las escuelas K-5, incluyendo el aprendizaje social emocional diario, planificación de equipo extendida, taller de lectura / escritura y lectura guiada
Desarrollado un sistema de múltiples niveles de apoyo (MTSS) para identificar y supervisar las necesidades académicas y de comportamiento de los estudiantes
Proporcionado a los estudiantes de primaria oportunidades diarias para la actividad física a través del movimiento / rompimientos cerebrales y la creación del sitio web de GYM para apoyar esta iniciativa
Capacitado y entrenado a equipos de maestros para que usen un enfoque de diseño hacia atrás para crear unidades de estudio que proporcionen experiencias de aprendizaje significativas para todos los estudiantes, junto con medidas de evaluación desafiantes
Implementado un alcance y una secuencia alineados para las matemáticas y desarrolló la evaluación pre-evaluación diseñada por el maestro, la evaluación formativa y las tareas de transferencia sumativa para cada unidad de matemáticas


---
Innovación y Comunicación
Proporcionado acceso a los dispositivos de aprendizaje para todos los estudiantes en los grados preK-8. Los estudiantes en los grados de kindergarten a segundo grado tienen acceso individual a una tableta y los estudiantes de los grados tercero a octavo tienen acceso tanto a un tablet como a un Chromebook
Proporcionado al personal con desarrollo profesional incorporado en el trabajo a través de siete entrenadores de aprendizaje innovadores que apoyan la integración de prácticas innovadoras de aprendizaje y enseñanza
Implementado Aprendizaje Profesional Innovador como parte del proceso de Capacitación de Aprendizaje Profesional del personal:

Los entrenadores y administradores de aprendizaje innovadores diseñaron y proporcionaron todos los entrenamientos
Se proporcionó al personal opciones de sesiones para satisfacer mejor sus necesidades individuales de aprendizaje
Los temas de la sesión abarcaron la capacitación en tecnología básica y las prácticas recomendadas para el aprendizaje del siglo 21

Reconocido por el programa Futuro de la Casa Blanca como un distrito Listo para el Futuro. El personal y los estudiantes del CCSD59 destacaron en un video en la Casa Blanca y en todo el país en las cumbres regionales preparadas para el futuro
Creado una serie de comunicación de reconocimiento del personal que incluye un correo electrónico semanal de la celebración del personal y el 59 en :59 series de video para reconocer a un miembro del personal al mes
Contratado un proceso para crear un plan de comunicación integral que establezca un sistema proactivo de comunicaciones bidireccionales para conectar el distrito con todos los estudiantes, padres, personal y miembros de la comunidad
Colaboro con el Departamento de Instrucción para crear el Laboratorio de Aprendizaje, un recurso basado en la web para que el personal cree, almacene y comparta unidades y lecciones en todo el distrito


---
Servicios educativos
Actualizado descripciones de programas y prestación de servicios para los programas ELC, ELS, LOP, CIP y LBS
Proporcionado apoyo intensivo de liderazgo para el Programa de Habilidades de Vida Educativa
Aumento entre los servicios especializados y el currículo de educación general
Implementado una nueva herramienta de diagnóstico digital para psicólogos y patólogos del habla
Re-diseñado el modelo de liderazgo de educación especial
Desarrollado un modelo de servicio diferenciado para el personal de Servicios Educativos
Participado en el diseño del Centro de Aprendizaje Temprano
Recibido el Reconocimiento del Sello de Oro Estatal para Programas de Primera Infancia
Proporcionado una Serie de Desarrollo de Liderazgo de Educación Especial para Subdirectores
Desarrollado una guía del distrito para bocadillos saludables alineados con la nueva legislación
Revisado los procedimientos de McKinney Vento (sin hogar) y proporcionó capacitación al personal
Mejoro el reembolso de Medicare y los procedimientos de presentación
Actualización de los registros de los estudiantes para alinearlos con los nuevos mandatos
Actualizado los procedimientos de salud escolar para los estudiantes de cuidados críticos y brindó capacitación
Realizado una evaluación integral de necesidades para guiar la planificación futura
Implementado una asociación de tutoría con Kids Hope en Byrd Elementary School
Ley de Erin – proporcionó lecciones de pre-k a través de 8 estudiantes en el otoño y la primavera
Prestación de apoyo a edificios / formación relacionados con PBIS (todos los edificios han recibido formación y se están aplicando a nivel universal, 8 a nivel secundario)
Aumentado el número de subdirectores en edificios para apoyar la educación especial y MTSS

Desplazó a todo el personal y estudiantes de Early Childhood en una ubicación centralizada en un estado de la instalación de arte:
Adición de la posición de Facilitador Familiar para construir relaciones con la comunidad, así como ayudar a las familias de una manera más expansiva en el Centro de Aprendizaje Temprano

Proporcionado a los equipos escolares (Psicólogos, Trabajadores Sociales, Especialistas en Comportamiento de Aprendizaje y Subdirectores) desarrollo profesional relacionado con FBA / BIPS
Creado IEPs digitales, 504s y Planes de Cuidado de la Salud usando el sistema Skyward
El personal de salud recibió capacitación sobre exámenes médicos de educación especial, evaluación de concusiones, manejo de la diabetes en el ambiente escolar y planes 504
Autismo Formación Marco Monteiro para Psicólogos, Trabajadores Sociales y Patólogos del Lenguaje
Capacitado en el uso de las Zonas de Regulación Currículo
Tarjeta de calificaciones de ELS Essential Elements alineada con la boleta de calificaciones de educación general
Aumentado de la cantidad de apoyo psicológico y de trabajo social a nivel de edificio
Desplazado de los registros permanentes en formato papel a formato digital
Creado una escuela preescolar de 4 años ubicada en Ridge Family Center for Learning totalmente financiada por el distrito para permitir el acceso a la educación a una edad más temprana
Creado de un salón de clase de Kínder de Desarrollo


---
Aprendizaje Social-Emocional
Proporcionado oportunidades de aprendizaje social-emocional (SEL), actividades y creación de habilidades SEL integradas en una base diaria y semanal
SEL basado personal – BOE aprobó la contratación de psicólogos, consejeros y trabajadores sociales
Entrenamiento centrado en el impacto del desarrollo del cerebro, antecedentes culturales y el impacto en el aprendizaje
Alineado SEL con PBIS
Proporcionado apoyo a los edificios en la comprensión de las 5 competencias básicas de SEL
Implementado una asociación de tutoría con Kids Hope en Byrd Elementary School
Apoyado una asociación escuela / comunidad para el fútbol elemental
Participado en el Programa de Cuenta de Carácter de la Comunidad
Participado en la alianza de liderazgo SEL del condado de DuPage con CASEL
Entrenamiento de pensamiento social para todos los trabajadores sociales y compra de materiales
Implementado actividades diarias de desarrollo comunitario en escuelas primarias
Comités creados alineados con el desarrollo de SEL, el desarrollo de intervención de comportamiento y el compromiso de la familia y la comunidad
Club de fútbol proporcionado a estudiantes de 2 ° a 5 ° en asociación con Elite Soccer Community Organization
Proporcionado Ready Rosie y apoyos basados ​​en la comunidad para padres de niños desde el nacimiento hasta el octavo grado
Proporcionado un directorio de recursos, una línea directa y un armario para la ropa de Community Cares
Coalición para desarrollo positivo para la juventud – Comité de Elk Grove


---
Aprendizaje Profesional
Implementado un modelo de entrenamiento que provee al personal con apoyo y entrenamiento incorporado al trabajo para continuar construyendo la capacidad de enseñanza y aprendizaje, desarrollando currículo e incorporando las seis áreas de enfoque
Proporcionado una amplia formación profesional para todos los líderes y personal que apoya la enseñanza y el aprendizaje del siglo 21, el aprendizaje emocional social y el diseño para el aprendizaje
Implementado el Tiempo de Aprendizaje Profesional semanal (PLT) para personal certificado y administradores diseñados para proveer y facilitar oportunidades de aprendizaje y planeación profesional que conducirán a un mejor crecimiento estudiantil en los dominios académico y socioemocional
Agregado entrenadores de instrucción en las áreas de Alfabetización (7), Innovación (7) y Lenguaje Dual (1) para apoyar y ayudar al personal en el proceso de aprendizaje e implementación
Utilizado a autores, investigadores y líderes de pensamiento mundialmente reconocidos para capacitar al personal, administradores y padres. Ejemplos de formadores son: Scott McLeod, Julie Adams, Grant Wiggins, Jay McTighe, Will Richardson y Steve Layne
Sesiones de capacitación y colaboración para personas especializadas en el empleo para grupos de personal especializado.
Facilitado el desarrollo de experiencias de aprendizaje.
Actualizado el modelo de capacitación instructiva para proporcionar apoyo adicional de aprendizaje e implementación integrado en el trabajo en todas las escuelas.
Proporcionado oportunidades de capacitación de aprendizaje de verano para el personal que están alineadas con las áreas de enfoque del distrito.


---
Estructuras / Operaciones / Instalaciones / Asociaciones
Ampliado el día de instrucción por 30 minutos en 13 escuelas
Lanzado kindergarten de día completo en todas las escuelas Título I y amplio en todo el distrito en 2015 – 16
Completado, aprobado por la Junta Directiva, construcción y apertura de un nuevo Centro de Aprendizaje Temprano para nuestros estudiantes más jóvenes
Mantenido una calificación de bono AAA y recibió anualmente Certificados de Excelencia en Informes Financieros de ASBO
Realíneado la programación para permitir que los estudiantes de Friendship and Grove Clusters asistieran a la escuela de su casa para servicios de ELL, con planes para que el Clúster de Holmes siguiera pronto
Reestructurado de departamentos a nivel de distrito, redefinición de roles y responsabilidades
Alineado la planificación y la acción con los parámetros financieros establecidos por la política de la BOE
Colaborado mejorada con High School District 214
Contratado a directores asistentes de escuelas primarias para apoyar la enseñanza y el aprendizaje en el edificio y el distrito
Contratado plurianuales completados para todos los grupos de empleados negociados.
Aumentado oportunidades de aprendizaje temprano con la implementación de una clase de kindergarten de desarrollo y preescolar de cuatro años en 2017.18.
Dr. Fessler da la bienvenida a sus comentarios en [email protected]