Family Reference Guide
Guía de referencia familiar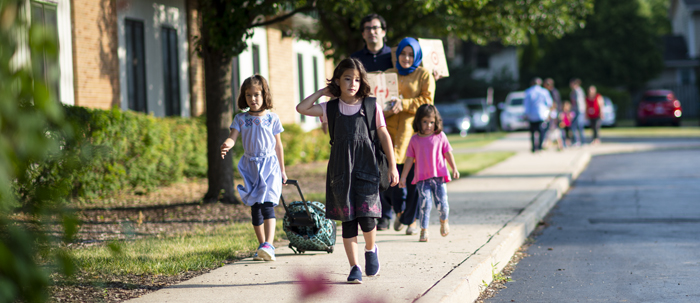 The mission of CCSD59 is to Prepare Students to be Successful for Life through a wide range of programs and experiences for our preschool through eighth grade student population. To better prepare you and your child for the school year, please carefully review this guide, which contains timely information about policies, procedures and legal requirements governing the operation of our school system.
This guide to CCSD59 is not intended to create contractual or other rights between the student and theDistrict. It is intended to describe the District, its current practices, rules and regulations, and may be amended throughout the year without notice. It is subject to Board Policy which may be modified.
---
Index
Board of Education
---
---
Registration/Residency
Grade Placement
Enrollment of Transfer Students to District 59
Transfer Out of District 59
Ridge Family Center for Learning Enrollment
Alternate Attendance Options (Open Enrollment)
Part Time Attendance
Homeless Students
---
Starting/Dismissal Times
Attendance is Important
Reporting Student Absences
Tardiness
Family Trips
Compulsory Attendance Laws
Truancy
---
Homework
Report Cards
Grades and Definitions
Student-Led Conferences
Participation in End of the School Year Special Events
Response to Intervention (RTI)
Promotion, Retention, and Remediation
Acceleration
---
Problem Solving within a Multi-Tiered System of Supports
Referral for Initial Evaluation
Continuum of Services
Behavioral Interventions for Students with Disabilities
Related Service Logs
Language Interpreters at IEP Meetings
---
Equal Educational Opportunities
Sex Equity
Disability Non-Discrimination Policy
Equal Opportunity Employment
Harassment of Students Prohibited
Sexual Harassment of Students Prohibited
Workplace Harassment Prohibited
Sexual Harassment in the Workplace Prohibited
---
Health Examinations and Immunizations
Dental Examinations
HPV Information
Health Guidelines for Parents
Student Athlete Concussions and Head Injuries
Accidents at School
Illness at School
Home/Hospital Services
Individual Health Plans
Students with Chronic Communicable Diseases
Students with Life-Threatening Allergies
Supporting Students with Life-Threatening Allergies
Students with Asthma
Students with Diabetes
First Aid Training for Staff
CPR/AED Training
Head Lice
Vision and Hearing
Vision Examination
Medication Guidelines
Abused and Neglected Child Reporting
Recognizing and Reporting Sexual Abuse
Erin's Law
---
Health Education
Child Self-Protection and Safety Program
Drug Prevention Education Program K-8
---
Supporting Students Mental Health
Reporting a Safety Concern
Proactive Approaches
Anti-Bullying
Student Standards and Rules
Disciplinary Measures
Isolated Time Out, Time Out, and Physical Restraint
Search and Seizure
Notification Regarding Student Accounts or Profiles on Social Networking Sites
---
Student Records Defined
Maintenance of School Student Records
Access to Student Records
Orders of Protection
Directory Information
Student Record Challenges
Custody of Records of Students Who Have Left the District
Transfer of Records of Students Who Have Been Promoted or Transferred to Another Building in District 59 or High School
Right to File a Complaint
---
School Nutrition Services
National School Lunch and Breakfast Program
Free and Reduced Price Meals
Student Meal Accounts – Mealtime
Meal Account Deposit Options
Mealtime Online
Low Meal Account Balance Statements
Negative Meal Account Balance Statements
Lunch Activity Program Rules
---
Free and Paid Busing
Bus Conduct
Bus Transportation Behavior Guidelines and Procedures
Parents Need to Know
Kindergarten Students
Reminders for Motorists
Electronic Recordings on School Buses
---
Student Fee Payments
Other School Fees
Waiver of School Fees
Failure to Meet Fee Obligations
---
Pupil Rights Amendment
School Crisis Plan
Severe Weather and Shelter in Place Drills
Fire Safety and Bus Evacuation Drills
Indoor Activity Because of Inclement Weather
Community Awareness of Potential Sex Offenders
Emergency School Closings
Emergency Preparedness
School Visitation Rights
Visitors/Access to Schools
Interscholastic Athletics
Student Accident Insurance
Videotaping/Photographing of Students
Security Cameras
Assignment of Staff, Materials, and Equipment
Freedom of Information Act
Facilities
The Pledge of Allegiance
Access to Electronic Networks
Electronic Networks – Web Publishing Guidelines
Uniform Grievance Procedure
Materials Safety Data Sheets (MSDS)
Federal Asbestos Program
Pesticide Application
Gift Ban/Ethics Act
Complaints About Curriculum, Instructional Materials, and Programs
Teacher Quality
Parent Involvement
Title I Parental Involvement
---
---
---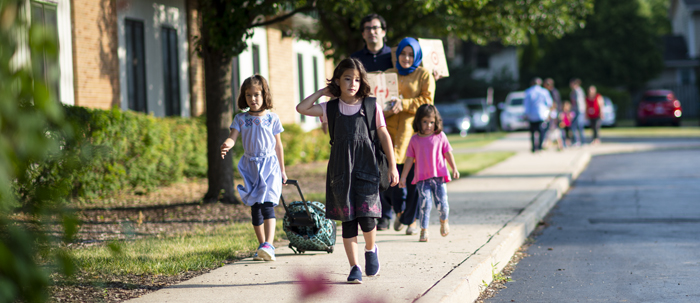 La misión del Distrito Escolar 59 es Preparar a los Estudiantes para tener Éxito para la Vida a través de una amplia gama de programas y experiencias para nuestra preescolar a través de la población estudiantil del octavo grado. Para preparar mejor a usted ya su hijo para el año escolar, por favor revise cuidadosamente la Guía del Distrito Escolar 59. Esta Guía contiene información oportuna sobre las políticas, procedimientos y requisitos legales que gobiernan el funcionamiento de nuestro sistema escolar.
Esta guía para el Community Consolidated School District 59 no tiene la intención de crear derechos contractuales u otros derechos entre el estudiante y el Distrito Escolar. Su propósito es describir el Distrito, sus prácticas actuales, reglas y regulaciones, y puede ser enmendado durante todo el año sin previo aviso. Está sujeto a la Política de la Mesa Directiva que puede ser modificada.
ÍNDICE
La Junta de Educación
---
---
Solicitudes de Registro/Residencia
Elegibilidad para Kindergarten
Elegibilidad de Primer Grado
Matriculación de estudiantes de transferencia
Inscripción de Ridge Family Center for Learning
Transferencia de CCSD59
Inscripción abierta
Asistencia a tiempo parcial
Estudiantes sin hogar
---
Tiempos de inicio/salida
Reportar las Ausencias de los Estudiantes
Tardanza
Viajes familiares
Leyes de asistencia obligatoria
Absentismo
---
Tarea
Las boletas de calificaciones
Grados y definiciones
Conferencias dirigidas por los estudiantes
Participación en Fin de Año Escolar Eventos Especiales
Respuesta a la intervención (RtI)
Promoción, Retención y Remediación
Aceleración
---
Solución de problemas dentro de un sistema de apoyo de múltiples niveles
Referencia para la evaluación inicial
Continuidad de los servicios
Intervenciones Conductuales para Estudiantes con Discapacidades
Registros de servicios relacionados
Intérpretes de idiomas en las reuniones del IEP
---
Igualdad de oportunidades educativas
Equidad sexual
Política de No Discriminación por Discapacidad
Empleo con igualdad de oportunidades
Acoso de Estudiantes Prohibido
Se prohíbe el acoso sexual de los estudiantes
Se prohíbe el acoso en el lugar de trabajo
Se prohíbe el acoso sexual
---
Exámenes de salud e inmunizaciones
Exámenes dentales
Información sobre el VPH
Pautas de salud para los padres
Conmoción y lesiones en la cabeza
Accidentes en la escuela
Enfermedad en la escuela
Servicios de hospital/casa
Planes de salud individuales
Estudiantes con enfermedades crónicas transmisibles
Estudiantes con alergias que amenazan la vida
Apoyo a estudiantes con alergias que amenazan la vida
Estudiantes con Diabetes
Entrenamiento de primeros auxilios para el personal
Entrenamiento de CPR/AED
Piojos de la cabeza
Visión y audición, examen de la vista
Pautas para Medicamentos
Informes de niños maltratados y desatendidos
Reconocimiento y denuncia del abuso sexual
La Ley de Erin
---
Educación para la salud
Programa de Autoprotección y Seguridad Infantil
Programa de educación sobre prevención de drogas K-8
---
Apoyando la Salud Mental de los Estudiantes
Informar un problema de seguridad
Enfoques proactivos
Anti bullying
Estándares y reglas para estudiantes
Medidas disciplinarias
Tiempo fuera aislado, tiempo fuera y restricción física
Búsqueda y captura
Notificación sobre cuentas o perfiles de estudiantes en sitios de redes sociales
---
Definición de archivos de los Estudiantes
Mantenimiento de registros de Estudiantes de la escuela
Acceso a registros de estudiantes
Órdenes de protección
Información del directorio
Desafíos del registro de estudiantes
Custodia de los expedientes de los estudiantes que han dejado CCSD59
Transferencia de Registros
Derecho a presentar una queja
---
Servicios de nutrición escolar
Programa nacional de almuerzo y desayuno escolar
Comidas gratuitas y de precio reducido
Cuentas de comida del estudiante — MealTime
MealTime en línea
Reglas del programa almuerzo
---
Transporte gratis y pagado
Conducta en el autobús
Procedimientos y guías para la conducta en los autobuses
Grabaciones electrónicas en los autobuses escolares
---
Cuota de estudiante
Otros cuotas escolares
Renuncia a las tasas escolares
---
Enmienda a los derechos del estudiante
Plan de crisis escolar
Simulacros de mal tiempo/refugio en el lugar
Simulacros de incendio y de evacuación de autobuses
Concienciación de la comunidad acerca de los delincuentes sexuales
Cierre de escuelas de emergencia
Preparación en caso de emergencias
Derechos de visitación escolar
Derechos de visitantes/acceso a escuelas
Atletismo intercultural
Seguro contra accidentes para estudiantes
Grabación de videos y toma de fotografía a estudiantes
Cámaras de seguridad
Asignación de personal, materiales y equipo
Información sobre la Ley de Libertad
Instalaciones
El juramento a la bandera
Acceso a las redes electrónicas
Las Redes Electrónicas – Reglas para publicar información en la web
Procedimiento Uniforme de Quejas
Información sobre la seguridad de los materiales (MSDS)
Programa Federal de Asbesto
Aplicación de pesticidas
Prohibición de regalos/Ley de Ética
Quejas acerca del currículo, los materiales de enseñanza y los programas
Calidad de los maestros
Participación de los padres
Participación de los Padres en las escuelas Título I
---
---
---