50 Years of Learning at Byrd
On Thursday, May 3, Admiral Byrd Elementary celebrated a very special occasion. Current and former students and their families, staff, CCSD59 board members and administration, and the community came together to celebrate Byrd's Golden Anniversary.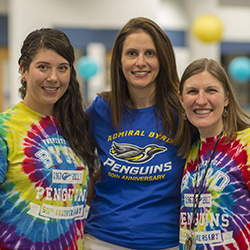 As guests came through the main entrance, they were welcomed by Byrd's staff. Byrd's famous penguin statue, decked out in a 50th celebration tye-dye shirt and surrounded by balloons, brought an air of festivity to the hallways. After signing the guest book, attendees were invited to roam the halls where 1967 trivia was posted throughout the school.
The Learning Resource Center featured special "50th anniversary" displays on the Lego Wall and Word Wall, a video created by students in the Talent Development Program, and many other unique displays celebrating the big day.
A special "50-years" nature mural, created together by the 17-18 students and staff, was specially created for the event and provided a great photo opportunity for proud families.
A gigantic 50-year timeline of life at Byrd and beyond, which included a wealth of "then and now" information, took up the entire gymnasium. Each grade level picked a topic of interest and traced its evolution from the 1960's to the present day, including cartoons, children's books and movies, inventions, music, and toys.
"It was wonderful to see all the photographs and student work celebrating events and technological developments decade by decade," said President of CCSD59's Board of Education, Janice Krinsky. "The best part was seeing the proud and happy faces of the children as they shared their work with their parents."
Classrooms also participated in various projects featured throughout the hallways, including "What I like about Byrd School," "50 wishes for the future", and many others.
"Over the past five decades we have seen many changes, but the importance of receiving a good education, and learning in a positive environment, is still at our core."
– Mary Ellen Esser, Principal of Admiral Byrd
A beautiful performance by Byrd's Bells, a longstanding bell hand choir at Byrd school, was flawlessly executed by the students. The performance concluded with a special version of "Happy Birthday," which Fine Arts Teacher Bonnie Briggs explained to the audience was a tricky version to perform.
All guests were invited to enjoy refreshments, including cake and lemonade, in the multi-purpose room, where students also took turns writing down what items were trending in 17-18 that they thought should be included in the school's 50th time capsule.
"It was an amazing event, " said Superintendent Dr. Art Fessler. "Watching students lead their families throughout the building, sharing their knowledge of the school and its history, was a really proud moment for CCSD59."