Comfort Canines Visit Salt Creek to Hear a Good Book
If reading a good story can make children happy, and spending time with a nice dog can make children happy, what happens when children get to read a great book to a good dog?
On Thursday, December 7, staff and families at Salt Creek Elementary had the opportunity to find out with their students at Family Literacy Night.
Like other CCSD59 schools, it is not unusual to have a family literacy night at Salt Creek. The school has Family Literacy Night annually to partner with families on how they can help encourage children to read at home. Providing families an enjoyable night of reading together is a great way to help accomplish this.
To make the event even more enjoyable, the school came up with the idea of giving the students the opportunity to read to therapy dogs. The event theme was "Curl Up With a Good Book," and the children were encouraged to wear cozy pajamas to the event.
"One of our teachers shared a family reading menu that includes reading at home to a pet, which led to a conversation about arranging for therapy dogs to visit our literacy night," said Judith Morales, literacy interventionist at Salt Creek. "We inquired about therapy dogs that visited another one of our school buildings, and arrangements were promptly made to bring the dogs to our literacy night."
Salt Creek Principal Dr. Nicole Robinson added, "We were happy to have another opportunity to engage with our families, and we were especially excited to be able to provide the additional motivation of reading with comfort dogs."
The dogs were brought to Salt Creek at no charge by the Lutheran Church Charities (LCC) K-9 Comfort Dogs Ministry Program. According to their website, LCC comfort dogs serve every day in their local communities and are also utilized to provide comfort to locations impacted by disaster and crisis. The LCC K-9 program currently has over 130 dogs serving in more than 20 states.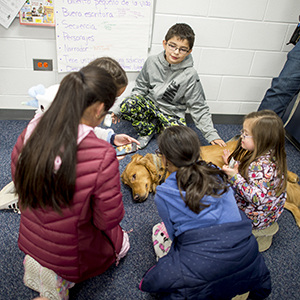 Although the evening was quite chilly, there was an excellent turnout at the school for the event with over 150 attendees. Students and their family members were lined up outside of the three classrooms that each had a therapy dog and a LCC handler.
It was truly heartwarming to watch the event unfold. Not only were the dogs amazingly well behaved in listening to the stories, but so were all the students. They were extremely considerate in taking turns reading. They also were very respectful to both their teachers and the kind representatives from LCC who patiently answered all their questions. It was quite apparent the students enthusiastically welcomed the job of reading to their furry friends, especially when the students were rewarded by delivering an ear scratch or a belly rub afterwards to the three gentle dogs, Suzi, Flex, and Levi.
In addition to the unique opportunity to read a beloved story with both their families and a cheerful canine, the students also had the opportunity to create a winter bookmark, listen to stories read aloud, participate in a free book swap, and take cookies and hot chocolate home to enjoy later.
In addition to helping emphasize the importance of reading at home and showing parents how they can cultivate it, Robinson said it's also quite simply just a good time. "The Family Literacy Nights also just provide a great opportunity to build relationships with families in an informal setting," she said. "The students and families truly had a lot of fun with the dogs, the LCC volunteers, and our staff, and the event went even better than we had hoped."