Frost Students Celebrate Diversity with Special Guests
On Monday, April 16, Robert Frost students were honored to have Congresswoman Jan Schakowsky lead their school-wide diversity parade, which was planned by the Student Global Committee. Ms. Leslie Reis, Director of Constituent Services for Congressman Raja Krishnamoorthi, attended the parade on his behalf as well. CCSD59 Board of Education members Sharon Roberts, Janice Krinsky, and Karen Osmanski and members of CCSD59's administration also celebrated with the students.
As part of the celebration, every student, staff, and guest in attendance were presented with a two-sided flag, with the flag of their cultural heritage on one side and the USA flag on the other side. All participants proudly waved their flags both during the parade and the assembly that followed.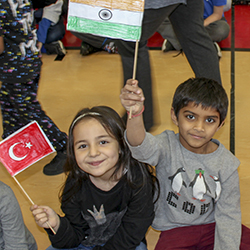 Congresswoman Schakowsky began her visit by leading the parade down the halls of Robert Frost and then spoke to the students and their families at the assembly afterwards. Her very important message really resonated with those in attendance: how diversity is our greatest strength when we learn from each other and work together.
Congressman Krishnamoorthi sent a letter of well wishes with Ms. Reis, which she read to Frost's students. The students presented both Congresswoman Schakowsky and Director Reis with a thank-you gift: a Frost "together" shirt and a "together" rock for her garden.
"It was a very powerful and heart-warming experience to see students, staff, and guests so proud of their heritage, yet at the same time so connected to each other in sharing their stories," said Susan Savage, principal of Robert Frost.