Holmes Students Share Their Art Smarts
On Friday evening of April 27, families at Holmes Junior High showed their support of the arts- and of their children learning them – by participating in the 2nd annual Holmes Paint Party.  All proceeds from the event will be used to buy supplies for art classes at Holmes.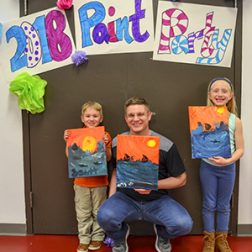 Under Holmes Art Teacher Jennifer McMillan's supervision, Holmes' art students ran the entire event. At only $10 to attend, the event provided families with a unique opportunity to spend time together while creating their own individual artwork, which was guided by McMillan. The cost of the painting supplies was covered by the entry fee, and all the additional proceeds from the event will go back into Holmes' art classrooms. This year there were 70 participants and 16 volunteers who attended the event, and over $980 was raised for art supplies.

Food and beverages were sold at the event, and $1 raffle tickets bought the chance to win some great prizes donated from generous local businesses. Some of the items raffled off were tickets to a Chicago White Sox game, many gift cards to local restaurants, sports memorabilia, show tickets, music lessons, bowling passes, a digital camera, and much more. Student families and Holmes staff also donated items to raffle and concessions to sell at the event to help raise money.
This year, the subject for the painting was a seascape, but participants had the opportunity to customize their paintings and bring their own unique perspective in.
"I love that even though everyone heard the same instructions for painting, each painting looked completely different in the end," said McMillan. "There was a lot of each person's personality showing in their masterpiece."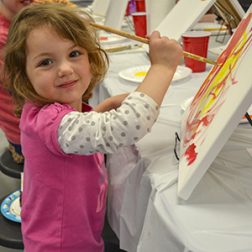 McMillan also said the event gave the junior high students the opportunity to really get involved, especially the chance to show their knowledge of art. Students took the role of teacher, providing very descriptive explanations about painting and giving skilled demonstrations to others, which made McMillan particularly proud.

"They loved sharing their knowledge with their families, friends, and teachers, and really enjoyed having our guests turn to them for help and advice," she said. "The students especially liked working with the little kids."
McMillan added that it also taught students' families some important lessons as well. "Since many people are reluctant artists, it was heartwarming to see parents and grandparents trying something new, and taking the same kinds of risks that I ask of their children or grandchildren everyday."