Student Solutions
"Do you have a problem that needs to be solved?"
This is the question that Talent Development Teachers (TDP) across the district posed to local community partners and within the CCSD59 district. The hope was hitting two goals at once: a possible solution for their problem, and a great real-world learning experience for CCSD59's fifth grade TDP students.
Organizations were invited to offer a problem to the TDP students, and students were allowed to select the problem they wanted to work on solving. Student groups were formed to work on their issue, and the groups worked on their solution throughout the school year, utilizing a "shark tank" model and project management skills. In the first semester, students learned about storytelling, digital media tools, and presentation skills. They then worked the entire second semester on problem solving and preparation for the presentation to their community partners.
There were a large variety of problems that were selected to be solved, some of which were quite challenging even for adults, including: recycling issues, blocked library cards due to overdue fines, how to get the public to offer more healthy and dietary conscious nonperishable foods for a food pantry, internet safety issues, and equipment availability for a soccer program.
Student groups presented their solutions to representatives of the Des Plaines Library, the Village of Mount Prospect, the Arlington Heights Police Department, CCSD59 Administrators, and others.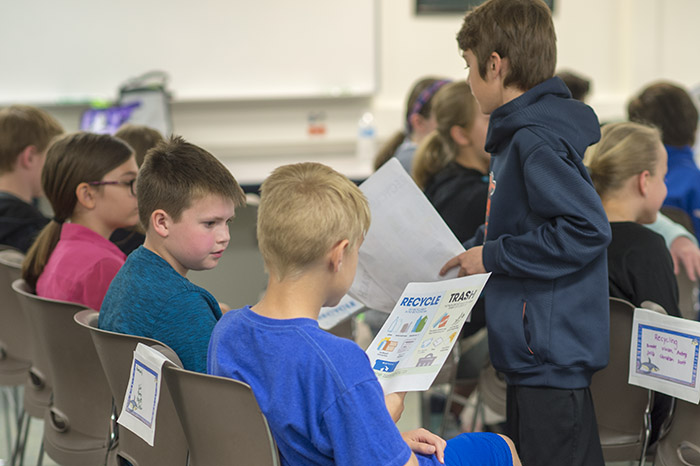 "Some solutions presented were ones the community partners had not thought of when trying to solve the problem for themselves," said Lisa Toulon, TDP teacher at Admiral Byrd. "For example, the problem which Mrs. Jablonski, the Assistant Village Manager at Elk Grove Village, posed was regarding recycling issues they were having with recycling plastic bags. She chose the Clearmont students' solution to their issue, and plans to follow-up with them next fall."
The student presentations went into great depth and provided a good deal of well-researched ideas and suggestions, including intricate plans for marketing and community involvement, prototype devices, and how to keep their ideas sustainable over the long term. The students' audience was quite impressed with their creativity, ideas, and presentations.
"The collaborative and creative approach the student teams used to critically solve authentic community problems was impressive and inspiring," said Ross Vittore, CCSD59's Executive Director of Human Resources. "The students, staff, and community partners should feel nothing but pride for this tremendous learning success."
Vittore had presented the problem of needing more soccer equipment on behalf of Elite Soccer Community Organization (ESCO), a local nonprofit organization that provides community outreach services and education through the passion of soccer, including to the CCSD59 community. Being both a CCSD59 administrator and on the ESCO board of directors, Vittore saw the opportunity to help both groups at once – for ESCO to have more soccer equipment, and the students to learn real problem-solving skills.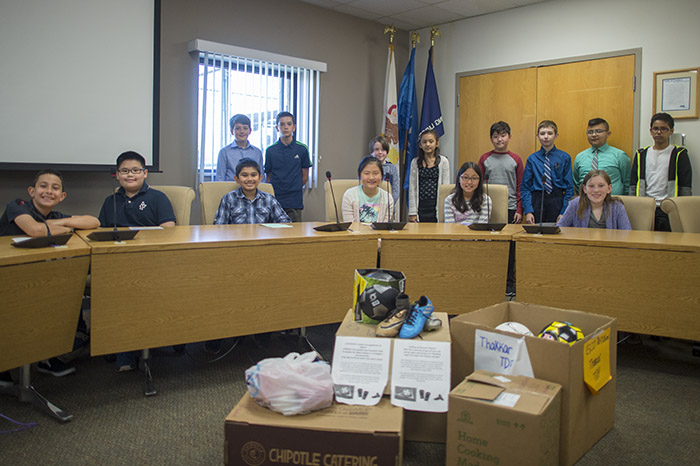 Jodi Briggs, TDP teacher at Devonshire, said that the students learned a great deal working on solving their organization's issue and all that the experience entailed. When asked by community partners what they learned, "our kids were honest about what they did when what they wanted to do didn't work, they said that time management was a challenge, and that collaboration with one another was difficult at times," she said.
The year-long project truly was a great success by all accounts, and TDP teachers hope that additional organizations will allow CCSD59 students to problem-solve for them in the future.
"We'd like to include even more community partners in the project next year," said Jeanine Vaughan, TDP teacher at Ridge Family Center for Learning. "This year really gave us a chance to discover the impact real world problems and solutions can have on our students' learning."