Students are able to enjoy reading for pleasure and to critically consume text while communicating effectively in both oral and written form in order to make meaning of the world around them.
Los estudiantes pueden disfrutar de la lectura por placer y consumir texto críticamente mientras se comunican de manera efectiva tanto en forma oral como escrita para dar sentido al mundo que los rodea. 
INSTRUCTIONAL PRACTICES
PRÁCTICAS  DE INSTRUCCIÓN
In District 59, we believe that a Reading and Writing Workshop structure supports both the foundational aspects of literacy development, as well as the meaningful comprehension and writing of text that is a gateway for a successful life. 
A workshop structure allows for apprenticeship as real readers and writers. The predictability of a structure allows them to understand their role in their learning.
En el Distrito 59, creemos que una estructura de Taller de Lectura y Escritura apoya tanto los aspectos fundamentales del desarrollo de la alfabetización, como la comprensión y escritura significativas de texto que es una puerta de entrada para una vida exitosa.
Una estructura de taller permite el aprendizaje como lectores y escritores reales. La previsibilidad de una estructura les permite comprender su papel en su aprendizaje.
Reading workshop 

Writing workshop

Small Group Instruction 

Differentiated instruction to meet the students' needs of phonological awareness, phonics, vocabulary, and/or comprehension. 

Phonics Instruction (K-2)
Taller de Lectura
Taller de Escritura
Instrucción en grupo pequeño
Instrucción diferenciada para satisfacer las necesidades de los estudiantes de conciencia fonológica, fonética, vocabulario y/o comprensión.
Instrucción Fonética (K-2)

Instrucción diaria y explícita en fonética diseñada para apoyar el crecimiento de los estudiantes como lectores y escritores.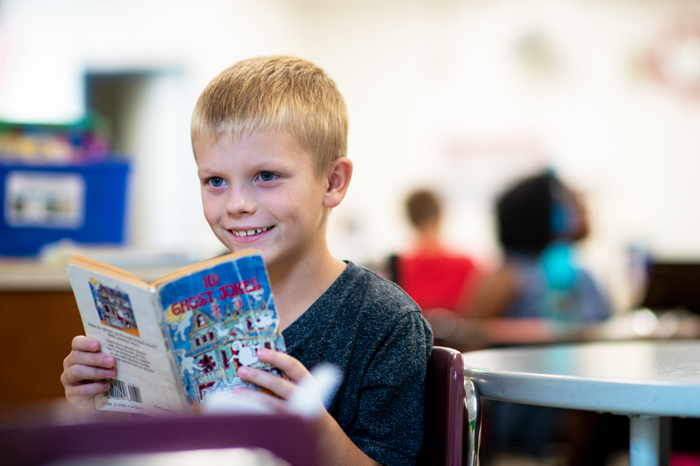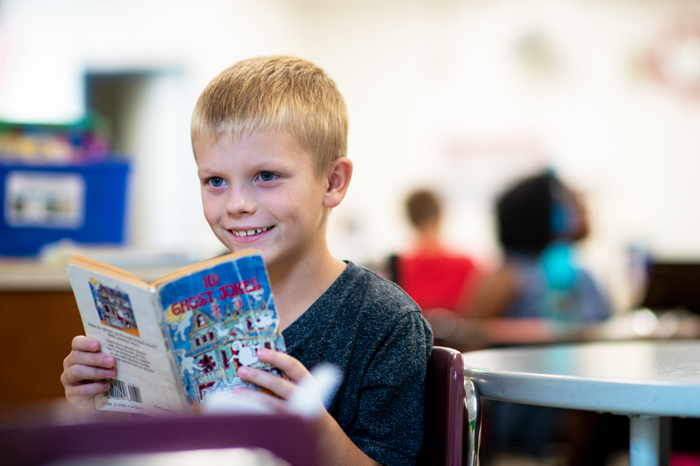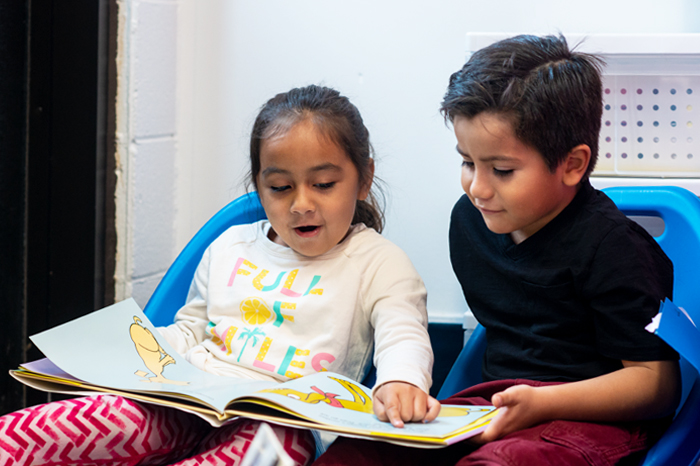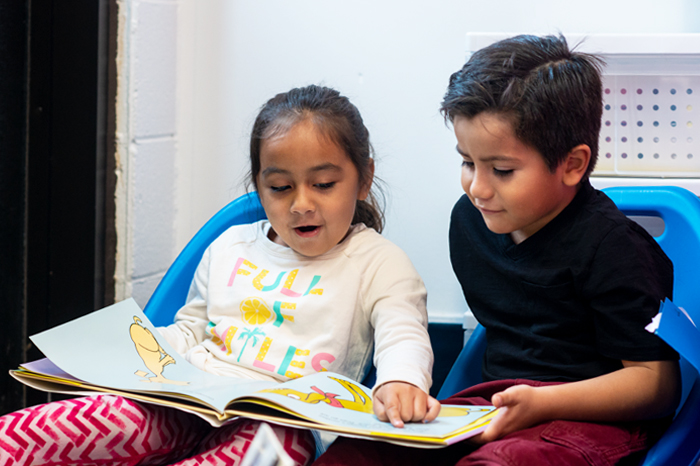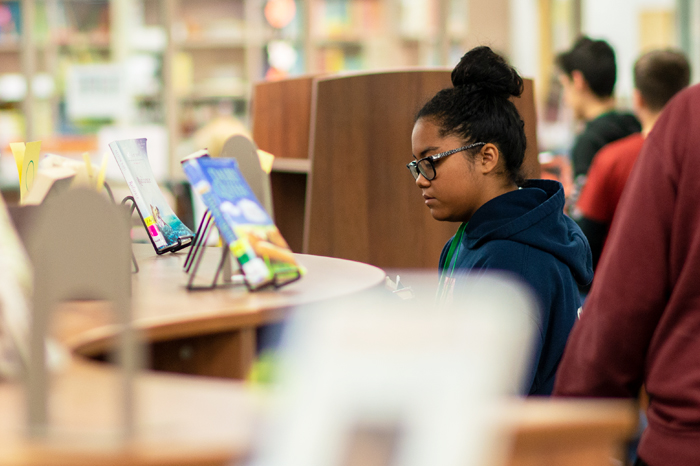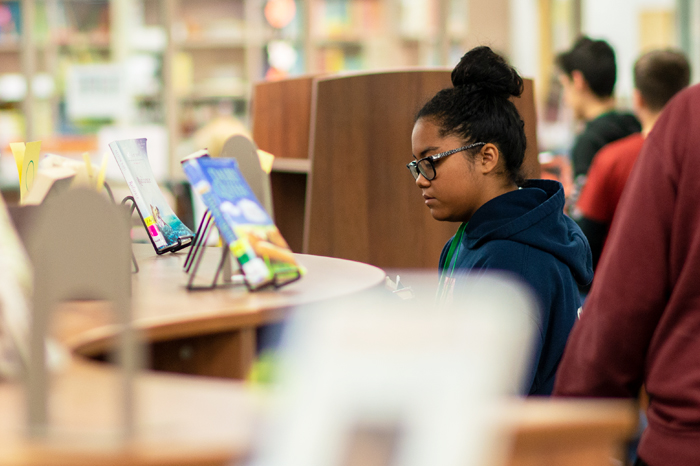 PROVIDING STUDENTS WITH FOUNDATIONAL ASPECTS OF LITERACY DEVELOPMENT AND MEANINGFUL COMPREHENSION INSTRUCTION, AS WELL WITH WRITING OF TEXT, IS A GATEWAY FOR A SUCCESSFUL, LITERATE LIFE.
PROPORCIONAR A LOS ESTUDIANTES ASPECTOS FUNDAMENTALES DEL DESARROLLO DE LA LECTOESCRITURA Y LA INSTRUCCIÓN DE COMPRENSIÓN SIGNIFICATIVA, ASÍ COMO CON LA ESCRITURA DE TEXTOS, ES UNA PUERTA DE ENTRADA PARA UNA VIDA EXITOSA Y ALFABETIZADA.
Ample practice leads to independent transfer of skills with little-to-no scaffolding, in new contexts, across disciplines. 
There is a relationship between reading, writing, speaking, and listening and how they lead to the ultimate outcome of effective communication.
Teachers are knowledgeable about reading and writing progressions so that every minute of instruction is purposeful and meaningful to meeting students' needs. 
Ambitious and targeted instruction is used to meet the students where they are and challenge them to move along the progression of learning. 
Foundational skills are explicitly taught that align with the linguistic rules of the language of instruction.
Instruction recognizes and encourages students to use all of their linguistic repertoire to develop literacy, integrates the development of the academic language and the precise language of literacy, and utilizes time to make meaning of text by reading closely and critically. 
Strategies are used in order to make sense of material in various text formats. 
Writing instruction instills the understanding of and ability to write for a variety of purposes and audiences to convey meaning effectively.
Writing instruction is sequential and explicit. There is an opportunity to write every day during writing instruction time, as well as across the curriculum in multiple formats, while receiving feedback for revisions and editions.   
Formative literacy assessments should drive instructional decision making to best meet the needs of students.
La práctica amplia conduce a la transferencia independiente de habilidades con poco o ningún andamiaje, en nuevos contextos, entre disciplinas.
Existe una relación entre leer, escribir, hablar y escuchar y cómo conducen al resultado final de una comunicación eficaz.
Los maestros conocen las progresiones de lectura y escritura para que cada minuto de instrucción sea útil y significativo para satisfacer las necesidades de los estudiantes.
La instrucción ambiciosa y dirigida se usa para encontrar a los estudiantes donde están y desafiarlos a avanzar en la progresión del aprendizaje.
Las habilidades fundamentales se enseñan explícitamente que se alinean con las reglas lingüísticas del idioma de instrucción.
La instrucción reconoce y anima a los estudiantes a usar todo su repertorio lingüístico para desarrollar la alfabetización, integra el desarrollo del lenguaje académico y el lenguaje preciso de la lectoescritura, y utiliza el tiempo para darle significado al texto leyendo de cerca y de manera crítica.
Se utilizan estrategias para dar sentido al material en varios formatos de texto.
La instrucción de escritura inculca la comprensión y la capacidad de escribir para una variedad de propósitos y audiencias para transmitir el significado de manera efectiva.
La instrucción de escritura es secuencial y explícita. Existe la oportunidad de escribir todos los días durante el tiempo de instrucción de escritura, así como en el plan de estudios en múltiples formatos, mientras se reciben comentarios para revisiones y ediciones.
Las evaluaciones de lectoescritura formativa deben impulsar la toma de decisiones educativas para satisfacer mejor las necesidades de los estudiantes.
Interested in Learning More?
If you have any questions or would like to learn more about
CCSD59's literacy curriculum, please feel free contact the district.
Alyssa Kocher
Literacy Coordinator
(847) 593-4336
kocher.alyssa@ccsd59.org
¿ESTÁ INTERESADO
EN APRENDER MÁS?
Si tiene alguna pregunta o desea obtener más información
sobre el plan de estudios de lectoescritura del CCSD59, no
dude en ponerse en contacto con el distrito.
Alyssa Kocher
Coordinadora de lectoescritura
(847) 593-4336
kocher.alyssa@ccsd59.org