Furry Visitor Helps Devonshire Students Boost Reading Skills
What is one way make curling up with a good book even better? What about curling up with a good book and a good dog?
Therapy dogs have made appearances at CCSD59 in the past as a way to emphasize the importance of reading and encourage students to do so. One has become an integral part of a second grade classroom at Devonshire.
Joanne Rowe taught at Devonshire for 38 years before retiring in 2005, but it was the last four when she formed a strong relationship with Jill Guerrero. The time the two spent working together is a main reason why Rowe and her special companion come back to Devonshire to this day.
That special companion is one of the most popular sights at school: her husky, Chia.
"Chia is a rockstar around here," said Rowe.
Rowe began filling the hours after retirement by volunteering at local shelters. Three years ago, she found Chia and began working on her certification as a therapy dog. That, mixed with a desire to still work with Devonshire students, forged a relationship with Guerrero's class.
Rowe began visiting Guerrero's class on a weekly basis to help students with their reading. One-by-one, Chia and Rowe sit with a student in the hallway outside Guerrero's class as he or she goes through a book.
"They're not reading to me. I'm listening and I'll engage with them, but they're reading to Chia," said Rowe. "Sometimes they'll read the book and show her the picture. They will have the book in one hand and pet her with the other. They have no fear of making an error. It is a very comfortable situation."'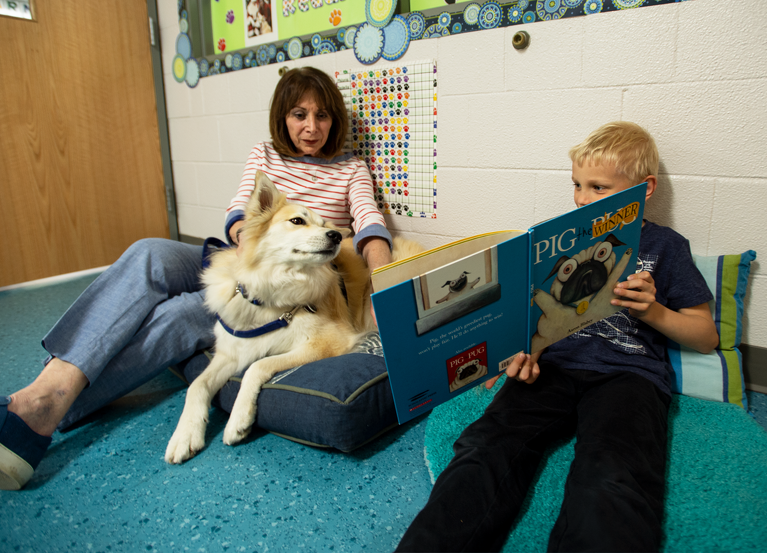 It was an easy sell for Guerrero, who has seen a noticeable increase in her students' literacy and confidence each of the last three years. Some of these students show very shy tendencies in the fall but manage to shed them by the time they leave her class. For this, Rowe and Chia play as much of a role in the classroom as Guerrero herself.
"This instills even more of a love for reading in the children," said Guerrero. "Joanne will report back to me, saying that this student may be working on this particular thing or how much they have grown when they read."
Rowe makes every effort to guarantee families are comfortable with the process. She meets with parents at the start of each year to familiarize them with Chia and how she plans to interact with students. This practice continues with students as Rowe teaches them how to greet a dog. As the year continues, Chia will visit in costume to help students celebrate holidays and provide gifts at the end of the school year.
Chia also demonstrates her ability to solve puzzles, moving shapes and containers around to get treats as students cheer. Rowe applies these lessons in perseverance and problem-solving in a way that relates to the class.
This meshing of education and dogs, two of Rowe's biggest practices, has meant the world to her and the classroom dynamic.
"It is great to have somewhere to go and do something that I feel makes a big difference," she said.